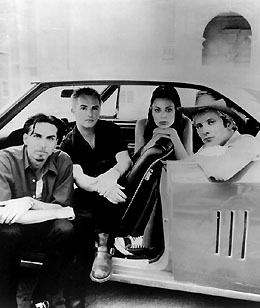 I Wish I May, I Wish I Might
L.A. Quartet Star 69
Interview by Alphonse Leong
---

Wouldn't you know it? Reasonably fine weather all week and then it's grey and drippy as L.A.'s Star 69 pulls into town for a one-nighter at the Starfish. But the foursome are remarkably chipper and ebullient as we talk over tea at a cozy, sticky table. They should be in good spirits: they have a solid debut CD, Eating February, released on Radioactive Records and produced by Don Smith (John Hiatt, Cracker), and it's only been two-and-a-half years since their initial meeting and only three years since vocalist/guitarist Julie Daniels started writing songs!

Daniels recalls how she "escaped from L.A." and found herself in London: "I just moved over there for a change and then I started doing music..." Guitarist Richard Corden continues, "...I was looking for a band and Julie put an ad in this music paper called Melody Maker... ("with naked photos," Julie adds mischievously)... I rang it up and there was this mad American girl who said, 'Come over to my house and bring your guitar!'" According to Daniels, Corden wasn't totally upfront at the first get-together. "All the guitarists auditioning were bringing demo tapes, and Richard brought a tape and it wasn't even his stuff!" "I fibbed," Corden proudly admits, "but I whipped out a slide and just started playing and she liked it!"

The ad also attracted bassist Warren Huart (who, like Corden, could pass for a long-lost brother of Billy Idol) and original drummer Patch Hannon (formerly of The Sundays). The intrepid group then began recording demos at a studio owned by Hannon and his brother and, after releasing two independent singles ("Mama Don't Let..." and "You are Here"/"I'm Selfish") and performing strong live shows, the group garnered decent press and attention from major labels. But it was a move to L.A. and hooking up with producer Don Smith that really consolidated their sound.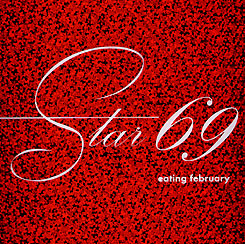 "It was fun! He got really good guitar sounds and really good drum sounds...very real sounds," Corden enthusiastically explains. "It was laid-back," says Daniels, "and all candles and sage and incense...dark rooms. It was an easy record to make." "He got a good vibe going," agrees Huart, "and it was a learning process as well." "He relaxed us and he let us do our thing," adds Corden.
The "thing" is a compelling selection of guitar-driven songs featuring haunting vocals and lyrics drawn from pain and confusion. The first single. "I'm Insane." is a good example. "That one's easy 'cause it's not about me," Daniels says matter-of-factly. "I had a friend who came to visit me in London and she was all heartbroken over this guy. I was like, oh, I'll fix her up with this other guy I know and he turned out to be a complete jerk and did the exact same thing that the other guy had done. And she wouldn't shut up about it! So we went to Spain, I was in a hotel with her, I was having insomnia one night, and I went into the bathroom and wrote this song."
Gut-wrenching feelings seem to attract her. "I'm only inspired by powerful emotions...dark thoughts," she confides. The others seem in sync with her ("the common thread of depression!" laughs Daniels). Corden says, "I've never picked up the guitar when I've been happy. When I'm happy, I just want to go out and play in the park or something." But there is pleasure in the process. "You're happy with the result," says Daniels, "and I think every songwriter will tell you it's therapeutic. You've got something out of your system and you can go and be happy for a while...until the next disaster!" "It's not depressing, like slit your wrists depressing," muses Daniels, "and the melodies are upbeat, so if you're not paying attention [to the lyrics] you don't really notice what's going on."
And the group doesn't seem to be a downer to their audiences so far. "People are so friendly!" Daniels says about recent shows in Texas. "Austin is a great city, Austin is awesome!" "Live music is a much bigger thing here," notes Huart. "People really want to go out and have a good time." "Right now we're on tour with Space, but so far, they haven't shown up!" Daniels laughs, taking a light-hearted poke at Space's last minute cancellation which bumped Star 69 to the headliner spot. ("Does everybody know?" she asks timidly.)
As I leave them to do their soundcheck, they ask me what are the hip things they can do in Vancouver, but as I start to list a few things ("Uh, we've got a good park" draws a chuckle), Daniels admits, "Well, we don't have time, we're leaving right after the show...and we don't have any money!"
---
First published in Drop-D Magazine on April 4, 1997
Index | Search | E-mail | Info | Copyright

Considering copying some of the images from this story?
Please read this first. Thanks.