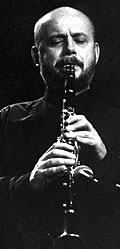 The Flying Who What Band?!?
The Flying Bulgar Klezmer Band
Havana Restaurant/Gallery
Vancouver, B.C.
Thursday, April 3, 1997

Review by Alphonse Leong
Photography by Rodney Gitzel
---

If you're never invited to a traditional Jewish wedding, attending a Flying Bulgar Klezmer Band show is the next best thing. This wacky bunch of dispossessed souls transformed an averageThursday night at the Havana into a festive treat for a few faithful, and a few uninitiated as well.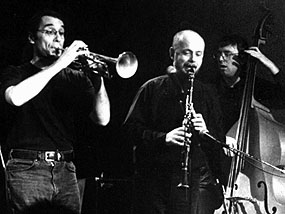 As the veteran Toronto band entered the backroom mini-auditorium, their hands clapping out a gypsy-flavoured rythym and their gazes focused intently forward, you knew these guys weren't just dabblers. Everyone in the band has been around, from accordionist Alex Luminsky's three years in the Soviet Army Orchestra to drummer Bucky Berger's seven years with Rough Trade (remember that group?!). No matter what their individual backgrounds, they were completely united in the present endeavour, all were wearing some fashion evoking Old Europe, and all were exuding an 'I'll do what I like' attitude. "Klezmer," by the way, means "itinerant musician" in Yiddish and aptly describes the mood and flavour of this band.
The night's first number was an instrumental, as were most of the songs in the set, but singer Dave Wall (ex of Bourbon Tabernacle Choir) introduced the second composition, "Di Drei Neytorins" (the Three Seamstresses), with a complete English translation of the lyrics! With a mournful catch in his voice and despair in his eyes, Wall easily conveyed the story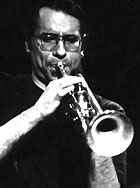 of three doomed spinsters. I looked around and saw that some women were dabbing at their eyes with handkerchiefs, and I had to admit that I was getting a little choked up myself.
Wall then left the stage and let the band play some tasty numbers that featured some Benny Goodman-like noodling from clarinetist Paul Pacanowsky, he and trumpeter David Buchrinder really showing their jazz backgrounds as they playfully traded licks with each other. The looseness and exuberant musicianship of the two were a great sight and many in the audience were clapping and tapping along.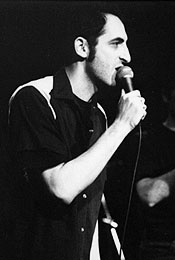 Wall came back on and announced, "My return signifies another depressing song." He wasn't kidding. He again prefaced the song, called "Mayne Yunge Yorn" (My Youth), with a full translation, and began the piece with a beautifully phrased "Oy Vey!..." A Yiddish folk dirge on childhood hardship sung a capella, it was a perfect piece for Wall's particular sense of drama and had the audience (and the band) completely transfixed. And, again, some women in the middle rows had shiny, moist eyes.
The band followed with some upbeat numbers, including "Sam," a Buchrinder composition inspired by theme music from a defunct children's show, and "Doyne Istanbul," an eerie piece originally recorded in 1905 and reminiscent of Miles Davis. The rest of the evening was a good mixture of lamenting, forlorn evocations and high energy celebratory pieces which included, of course, an intense traditional Jewish wedding medley! Many of the songs come from their new Fire CD (which features Adrienne Cooper instead of Wall on vocals), but whether you catch them live or on disc, I would definitely recommend getting a taste of this exotic, yet somehow familiar, band.
---
First published in Drop-D Magazine on April 19, 1997
Index | Search | E-mail | Info | Copyright

Considering copying some of the images from this story?
Please read this first. Thanks.