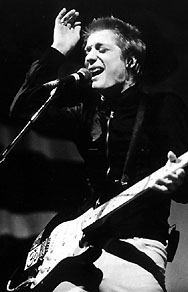 We've Got a Wah-Wah and We're Going to Use It!
Kula Shaker
with Headswim
Graceland
Vancouver, B.C.
Saturday, March 29, 1997

Review by Daniel Ewacha
Photography by Rodney Gitzel
---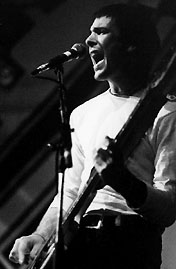 The Next Big Thing from Britain recently kicked off their North American tour in Vancouver to a sold out audience at Graceland. No, it wasn't Oasis, Pulp or Ocean Colour Scene. Nor was it Supergrass, Suede, Blur or any other band that's been given this title over the past two years. Actually, it was Kula Shaker -- and they may actually be just the band most worthy of this banner. Their mix of ethnic Indian musical influences and their rebellious form of rock and roll has been both magical and invigorating on CD, as those crammed into Graceland were well aware of.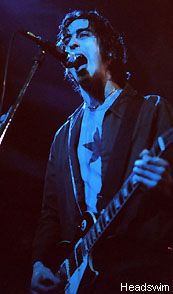 The transition from CD to live sound was, however, not a smooth one, as all the Indian grooves, sounds and voices were pre-recorded, leaving somewhat of a void that was not easily filled. In the end, though guitarist/vocalist Crispian Mills, Alonza Bevan on bass, Jay Darlington on the hypnotizing hammond and drummer Paul Winterhart created their own magic with very solid and tight performances of songs such as "Hey Dude," "Into the Deep," "303," and "Magic Theater," all the while strutting their stuff across the stage and showing the audience that they actually wanted to be there. An unfortunate version of the band's first single (and my favourite song) "Tattua" left a bit to be desired, but the band more than redeemed themselves by ending the show with a powerful and truly inspirational performance of "Govinda," dedicated to those who "believe in the future." Whether it was the future of Kula Shaker or one's own was not clear, but it would be a wise investment to believe in both.
I had the opportunity to catch only the last three songs from Headswim, tonight's openers. I was disappointed I hadn't heard more. These guys were pounding out great solid rock tunes filled with guitar hooks, melodic keyboards and a riveting rhythm section work that created a perfect start to the evening.
---
First published in Drop-D Magazine on April 25, 1997
Index | Search | E-mail | Info | Copyright

Considering copying some of the images from this story?
Please read this first. Thanks.