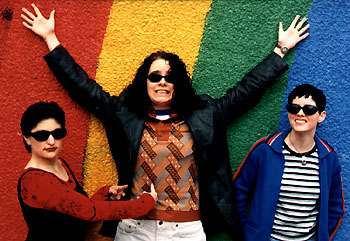 Oooooooooggg!!
Vancouver 'Easy-Listening Metal' Trio Queazy
Interview by Alphonse Leong
Photography by Rodney Gitzel
---

44-second excerpt from "Sexyness" (various formats)


Just as enjoyable as seeing a Queazy live show is talking with the local rock trio on a warm Sunday afternoon outside Joe's Cafe on Commercial Drive. They look positively radiant and ready to take on the world as they introduce themselves: Loungin' Laura Schultz (guitar/vocals), Beatmaster Bina Berger (drums) and Lisa Roadkill Foster (bass). Yep, they're all women -- but that wasn't exactly by design.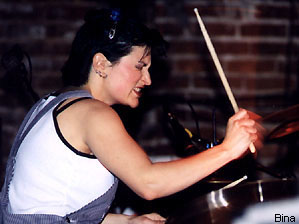 "I put the ad in [for people to join a band]," explains Schultz, "and I had so many interviews with a bunch of people and all the guys had egos that were massive and all the women were a little more, you know, willing to learn -- and nice!" Recalling her first meeting with Berger, she enthuses, "We clicked right away and we created like ten songs in an hour."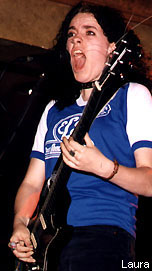 Coming on board a year later, Foster is the only one that had previously been in a band. But, she maintains, "Life began with Queazy!" She marvels, "I learned all the songs in three weeks, and then we got a gig [at the Town Pump] opening for one of the biggest bands [Pure] we've ever played with! I was nervous for about the first song, then it was like any gig." Well, almost, says Berger: "There were these three guys right up against the stage, blowing bubbles as we were playing..."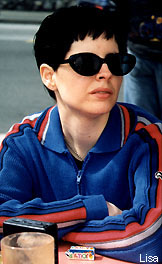 Drawing from diverse influences (Lita Ford, Vixen and AC/DC for Berger; Sonic Youth, Mudhoney, and Jimmy Page for Schultz; the Cure, the Smiths, and Echo and the Bunnymen for "total eighties pop queen" Foster), Queazy have formulated a sound that Schultz calls "easy-listening metal." This style can be heard on the band's punchy debut CD, Hurk, a disc that required extra work to put out.
"We recorded it three times," exclaims Berger. "We'd get halfway with someone [to record it] and then run out of money, go with someone else who wanted to start from scratch and run out of money again..."
They finally created a finished product with producer Mark Hensley. How was he to work with? "It was a hard process and an ego beating," admits Schultz. "We couldn't just come in say 'this is what we do,'" elaborates Berger. "He'd say 'let's make it better' and we'd go 'OK, fine, let's do it again.' And then we'd go 'oh, fuck, I can't believe that sounds better.'"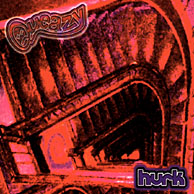 The result was worth the intense effort. The tunes are fun, energetic -- and subject to individual interpretation. "Like, with 'Brainfreeze,'" suggests Schultz. "That song's about Slurpees, but Lisa thought it was about..." "Oral sex!" finishes Foster with a laugh. "I like my interpretation better."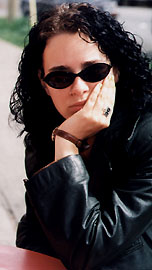 Recently the group trekked to Toronto for Canadian Music Week and were even interviewed by Sook-Yin Lee live on MuchMusic, much to their surprise: "We rolled into town, rushed there, did it and didn't even have time to tell anyone about it until after," says Berger. "And no one would believe us..."
The band enjoyed the trip out east. "It's good to meet all the bands -- and visit the Canadian Tires all across the country," says Schultz. Adds Berger, "It looks good on our bio that we've had two tours in the winter... Canadian winter!"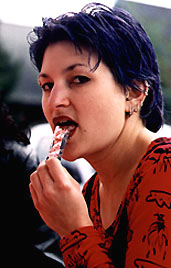 They were helped out, though, by the Pursuit of Happiness, playing nearly a dozen shows with the veteran band on their way out to Toronto. "They were like parents to us, and they really looked after us!" raves Schultz. "They left us behind one time, and when we caught up with them in the next city, they were like, 'Oh, we were so worried! We kept talking about you! What happened to those Queazy girls?!?'" "[TPOH guitarist] Kris Abbott actually called our publicist to make sure we had got out all right," enthuses Foster.
Upcoming plans for the trio include a tour to the States, but they have more immediate goals, too: "We've got to get some more Jolly Ranchers and get a sugar high for our rehearsal!" And, with that, I bid them farewell and leave them to their rock and roll duty.

Queazy play Music West on Friday, May 9th, at the Town Pump.
---
First published in Drop-D Magazine on April 25, 1997
Index | Search | E-mail | Info | Copyright

Considering copying some of the images from this story?
Please read this first. Thanks.