Outside the Electric Circus, Part I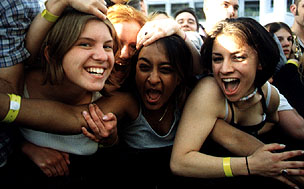 David Hawkes' Modern Rock Circus (Day One)
with Silverchair, Local H, Age of Electric, Handsome, Mollies Revenge and Huevos Rancheros
Plaza of Nations
Vancouver, B.C.
Friday, April 11, 1997

Review by Kevin "107.7 The End" Templeton
Photography by Rodney Gitzel
---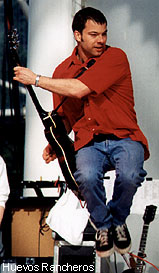 I bid you welcome to life outside at the electric circus: day one of C-FOX's two day "modern" rock-o-rama at the old Expo '86 amphitheatre. As you might've expected, thousands of young 'uns took in the festivities and were generally well-behaved and enthusiastic (my ears are still ringing from the screaming), aside from the usual moshpit bullying and pot-smoking indulgences. But anyway...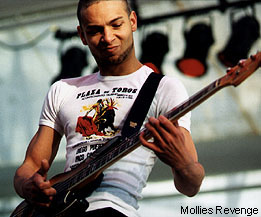 The first animal out of its cage was Calgary "garage-surf" instrumental trio Huevos Rancheros, who tastefully opened with the riff from FM staple "Highway to Hell;" but guitarist Brent J. Cooper's shit-eating grin finally got the best of him, and he realized that the young and impartial crowd just wasn't in on the joke. Huevos kicked up a little dirt during their anthem-less set but ultimately failed to excite many in attendance.
Mollies Revenge was to be one of the more uplifting and perhaps life-affirming acts to play on this day of rock, and they didn't disappoint. Yvette and friends showcased tracks from their debut effort Every Dirty Word including the title track, "Humble,"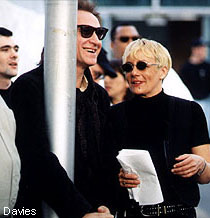 "I Wanna Be" and the Kinks' "Lola" -- which saw Kinkster Ray Davies checking out the band from stage right (sorry I missed ya' Ray). Although the Mollies' record isn't as edgy or adventurous as I had hoped, strong musicianship and undying charisma add range to this group's appeal, and appealing they are. Lap it up.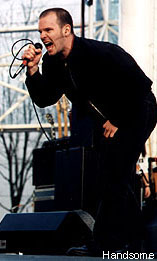 Although Handsome never really found that final gear during their 45-minute performance (almost seeming content with their musical stance alone), the five-man crew from New York were at the top of my list of bands to catch on this day. Starting off with "Needles" and pressing forward with "Ride Down" and "My Mind's Eye," Handsome are a real find for anyone into the post-New York sound (i.e., Quicksand, Into Another).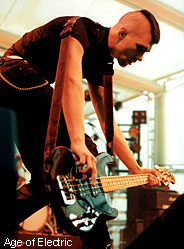 If ever there was a band who likes to get up on stage and fly the modern rock flag high, it's Age of Electric. I just can't pretend to understand this band's appeal in a live setting. Maybe it's because I used to see them play the bar circuit with bands like Smash L.A., back before wallet chains and other states of alterna-wear were in. At times singer Todd Kerns does little on stage to prove he's anything more than a vain rock star reveling in all of his fashioned glory. "Untitled" and the punky tune were cool, but not much else. Beer garden, here we come.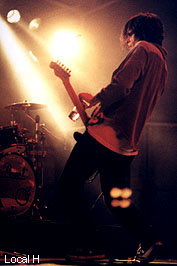 Fueled on "beer and oatmeal" were the grungy duo from Zion, Illinois (population 20,792) named Local H. Singer/guitarist Scott Lucas apparently plays with a bass pickup in his artillery, and he and drummer Joe Daniels create quite the roar with their Nirvana-style blasts. "Bound for the Floor" and "High-Fiving MF" were two standouts during the raw, hard-hitting set which featured an occasional hired-hand vocalist (hey, guys, three's a crowd!) and even a Rocket from the Crypt cover. Local H exceeded all of my generic expectations.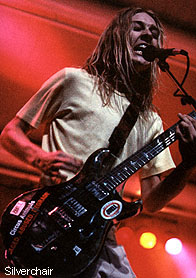 And last, but not least, we had Silverchair, the young Australian trio of gentlemen prone to sounding more like Seattle than Sydney. Daniel Johns is the centre of attention with his Kurt Cobain-meets-Jerry Cantrell profile, providing grand entertainment for his adulating army of fans, many of whom are young, female and screaming constantly. Sure, everything surrounding Ben, Chris and Daniel reeks of teen spirit, and, sure, they wear their influences like KISS wear makeup, but can these guys ever play! "Ouch," "Slave" (Mad Season), "Freak" (Helmet), and "Israel's Son" (Soundgarden) had the audience going relatively apeshit throughout, with Johns setting a fine example with some tremendous hair-tossing and spitting-in-the-air antics. What a surprise: Silverchair were easily the best of the lot at this show.
---
First published in Drop-D Magazine on April 25, 1997
Index | Search | E-mail | Info | Copyright

Considering copying some of the images from this story?
Please read this first. Thanks.