No Sleep 'til Brooklyn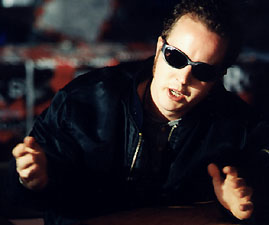 Drummer Pete Hines of Handsome
Interview by Kevin Templeton
Photography (except band photo) by Rodney Gitzel
---

45-second excerpt from "Ride Down" (various formats)


Brooklyn, New York, quintet Handsome have been bitten by that "buzz band" bug that has been going around the underground/hard music scene of late (especially south of the border). For good reason, too: the band features several vets from the New York hard-core wars from days past, with members from the Cro-Mags, Helmet, and Quicksand forming the group's core around melodic vocalist Jeremy Chatelain, who relocated to New York from his native Salt Lake City in October of 1994.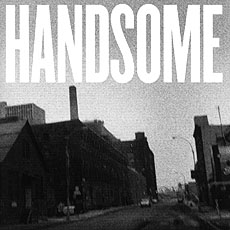 But there's a lot more to Handsome than simply rehashing the sonic abrasiveness of past projects, and their debut self-titled album strongly testifies to that fact. I talked recently with drummer Pete Hines, he of the Cro-Mags' Best Wishes-era (and Murphy's Law's classic first album from '84 when he was just 16!) in between early sets at the Modern Rock Circus. Pete's future with Handsome is so bright that, well, he's gotta wear shades, and he apologizes for not taking off his retina-savers as we sit in the light of the day's deadly rays. So how's touring with Silverchair been, Pete?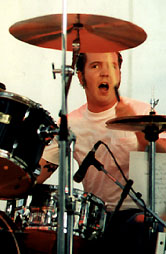 "I love it, man... I'm trying to be a good boy on the road. Just looking at them -- they have a good time, they don't have to be totally fucked-up, they behave themselves -- they have a blast. I'm not as young as them but I try to live through them, kind of. And they're so nice, we hit it off great."
Who came up with the "Handsome" moniker? It seems a tad unorthodox for this particular brand of music. "Peter [Mengede, guitars] did," he responds. "Tar from Chicago had an album called Handsome that he really liked and he thought it was a cool name. I'm psyched about it because all the names from New York are like Sick of It All, Biohazard, all these tough guy kinda names. I mean, New York's known for that, and we wanted to have a little tension [surrounding the name]."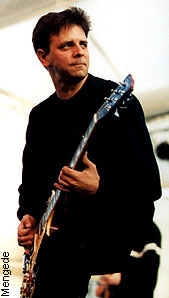 On the topic of tension, if you haven't heard the CD and are expecting down-tuned hard-core fury, forget it -- tracks like "Quiet Liar" and "Swimming" are lightweight enough to make even the most progressed punker squirm. What Handsome seem to personify more than anything is balance, both musically and lyrically.
"Well, because Sony has used our ex-bands as marketing, I think that a lot of people who were into those bands tend to think that we've sold out or something. We knew from the beginning of Handsome that we didn't want to do the same thing -- Peter was tired of doing the [imitates chugging Helmet riff] same kinda licks, and I was tired of the thrash thing. We knew that we wanted a melodic singer over really heavy music. A lot of kids don't understand... the whole writing process. Just because you've played one style of music for a long time doesn't mean that you weren't, say, writing poppy songs ten years ago. There's just not [always] an outlet for it."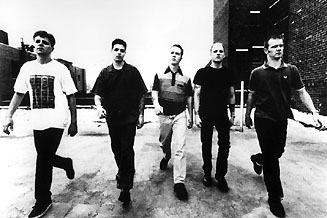 So has it helped or hurt the band that the media, record company, etc. harp on about the past tense when in fact the band members seem so optimistic about their uncertain future? "I think just the fact that we sold a lot of records immediately is a good indication that it's helped," notes Pete. "But," he tightens, "it's also an indication that it's not gonna fuckin' take us to gold, or to platinum, or to even build a big fan-base. I mean, there are probably a lot of kids here [at the show] who haven't even heard of Helmet, y'know?!"
"We wanna reach these kids," he continues, "we wanna reach whoever. Whoever wants to be a Handsome fan can be a Handsome fan."
---
First published in Drop-D Magazine on May 12, 1997
Index | Search | E-mail | Info | Copyright

Considering copying some of the images from this story?
Please read this first. Thanks.