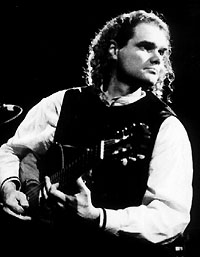 Cookin' Up a Rumba Storm
Jesse Cook
The Starfish Room
Vancouver, B.C.
Friday, April 18, 1997

Review by Andrew Parker
Photography by Rodney Gitzel
---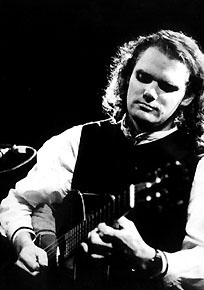 It seems I wasn't the only Vancouverite awaiting the arrival of Toronto's rumba/flamenco guitar phenom Jesse Cook. A standing-room only audience packed into the Starfish Room, excited to experience live the magic of Cook's two studio releases. On my home front, his second disc, Gravity, has slowly become rooted to my CD player, emerging as a current fave of spring anthems, so I was looking extra forward to this show.

Joining Cook on stage this night were Mario Melo on percussive devices and a muy fabuloso rhythm guitarist whose name was unfortunately inaudible. The three of them beautifully fused their creative energies, laying down layers of swirling sound. Cook reinforced the wonderful atmosphere at the start of the show, gleefully announcing, "Hey, let's get a crazy Rumba party going tonight!"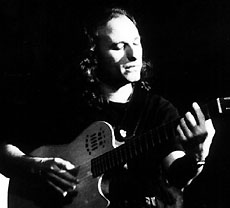 The music that Cook and his bandmates created produced a soothing, peaceful atmosphere in the Starfish. Cook's guitar playing held a reflective nod to the timeless, Old World traditions of family, music and celebration. I felt swept up by the softness; a tapestry of lives, colours and changing seasons. Closing my eyes for an instant, I was seized by a flashback of train travel across a windswept, sun-streaked Spanish plain. During other moments of the concert, Cook also displayed a penchant for furiously-paced flamenco numbers. In this style, one piece was particularly exceptional: "Brio," named after Cook's cat, had a playful flavour of flirtation. Lined with castenettas and clapping, the music told a summery story, speaking of sun, sand and jugs of sangria.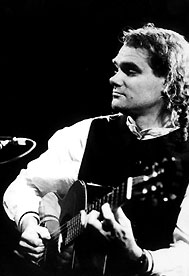 Percussionist Melo especially dazzled the assemblance with a series of groovy djembe lines, and throughout the evening appeared to be operating in an entranced-polyrythmic state. On his signature number, "Mario Takes a Walk," Melo pounded heavily on a bizarre Brazilian drum called a quicka; this instrument is essentially a closed wooden crate, emitting an array of delicious sounds through sides of varying thicknesses. Buoyed by the crowd's electricity, Melo's hands were a blur of movement, prompting Cook to tag him a "Veritable One-Man Virtual Samba Ensemble."
Perhaps saving the best material for the closure, the band broke loose with a scorching rendition of the title cut from Gravity. Cook explored every centimetre of his fretboard, bending strings and expanding musical minds. The Starfish was truly charmed by Cook and company, whose warmth and talent were rewarded with lengthy ovations following every number. When the band finally failed to reemerge from backstage, people's long faces quickly switched to blissful looks of discovery. I and many others in the crowd were just getting in the groove for a late-night rumba fest. Jesse Cook, virtuoso axeman and endearing storyteller, had left us all primed and anxious for his future visits to the West Coast.
---
First published in Drop-D Magazine on May 12, 1997
Index | Search | E-mail | Info | Copyright

Considering copying some of the images from this story?
Please read this first. Thanks.