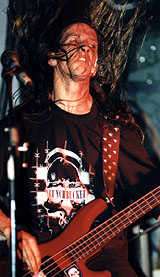 Metal Up Your Arse
Metal Waste
featuring Grudge, Feedbag, Aberration, the Gathering and Raw
Club Paradise
New Westminster, B.C.
Friday, May 9, 1997

Review by Kevin Templeton
Photography by Brian Kraus
---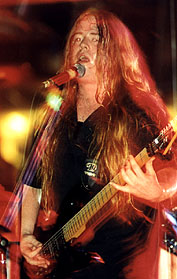 Stepping inside the dark confines of New Westminster's Club Paradise can be, at the best of times, like stepping into a time warp back to the late 80's, when suburban folk with neatly-ripped denims and feathered hair partied their paycheques away to the favourite sounds of the day. I mean, in how many nightspots these days can you find a glowing red siren to the right of the stage and an empty bottle of shampoo in the boys' room?! Quantum brand, no less!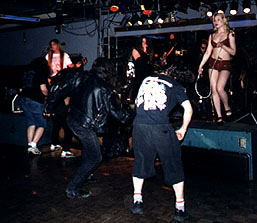 You may've already guessed that this night's line-up wasn't local "modern" metal of the Boxcutter/Strapping Young Lad/Midge variety, but rather a hearty chunk of purist, traditional noise. That said, second up (I missed Raw, due to new New West parking regs) were the Gathering, who speak the truth in advertising themselves as a "megaphone-wielding female-fronted psycho band." The three males in the Gathering basically churn out a lot of Bay Area-ish riffing, leading the way for the highly-psychotic frontwoman's choppy, shouted vocals. Don't know who this woman is or where she comes from, but she adds much-needed personality, attitude and presence to the band. A crazed version of Megadeth's "Peace Sells" ended the Gathering's set on a surreal note, as a gyrating blonde woman with a whip joined the group onstage for a little... fun. You had to be there.
Aberration were next and I didn't enjoy this band at all. Although touted before hitting the stage as having "won" the opening slot for the upcoming Dio show at Studebakers, I highly doubt Ronnie James would even give this unimaginative and emotionless barrage of licks and operatic vocals a listen for more than, say, five minutes. Add a cheesy and choreographed stage presentation to a sound that has been done a thousand times before and you have an aberration of uninspiring proportions.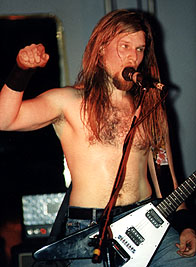 This night, by the way, was not just about bands. The show-within-a-show aspect to this evening featured music and banter from J.J. of HMV Robson's "Hour of Heaviness" (lose the 'deathspeak,' dude!) and "Metal" Ron of CiTR's Power Chord radio show. The HMV Metal Info Booth (!) was also on hand for prizes and give-aways galore -- one guy was told to show his "hairy butt" and to "make it speak" in order to get a freebie item, and he obliged! If that's not tasteless enough to attract one's entertainment dollar, attendees could also check out the worried-looking chap in the corner of the club; reportedly it was Dwayne "Damage," also of Power Chord, who was finding himself on the receiving end of a nifty skull design via tattoo artist Denis of Cartel Tattoo.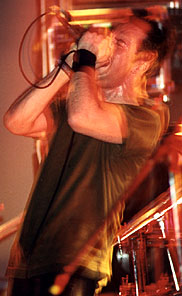 Feedbag were lucky band #4, playing tightly-executed metallic rock with a real flair for both musicianship and showmanship. You could almost feel the party-hearty vibe in the club wilt away from Feedbag's diverse mosh-rock temper, especially halfway through the set when three of the members began pounding on 5-string basses for an extended jam session. Interestingly enough, a friend of the band turned to me and started bragging about knowing certain members (this guy toured with the U.K. Subs, this guy went to Japan with Annihilator, etc.). Easily Metal Waste's strongest act.
I had to stick around to check out Grudge (my guest had bailed earlier in the evening), as I had missed them opening for Napalm Death at the Starfish Room (quite) a while back. The cool thing about Grudge's sound is that it takes more than a few minutes to absorb their appeal, pro or con. I liked 'em: progressive thrash with European overtones, interesting time signatures, dynamics... the whole ball of wax. The singer wore an Accused shirt, which always garners extra points with me. Cool, voracious stuff.
Kudos to all involved in getting "true" metal (whatever that means) back to the clubs!
---
First published in Drop-D Magazine on May 17, 1997
Index | Search | E-mail | Info | Copyright

Considering copying some of the images from this story?
Please read this first. Thanks.