Debunking the Cryptic Prune Myth
Pavement
with Apples in Stereo
The Vogue Theatre
Sunday, April 20, 1997

Review by Darren Kerr
Photography by Rodney Gitzel
---

My first introduction to Pavement was on the CBC's godlike radio show Brave New Waves; host Brent Bambury introduced "Two States" (from 1992's Slanted and Enchanted album) by quoting some journalist bigwig as saying "I don't know what the hell he's singing about, but I feel these words are probably the most important in music today." This was four albums ago, before the term 'math rock' and Richard Linklater's film Slacker. Before the band's subsequent releases: Westing (by Musket and Sextant), the excellent fair weather friend Crooked Rain, Crooked Rain, the much maligned and cacophonous Wowee Zowee, and, their latest, the flowing, cohesive Brighten the Corners.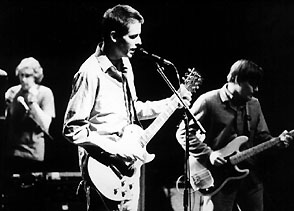 The only other time I've seen Pavement live, my friend Laura and I entered the Commodore very stoned, almost too stoned. We sat on the floor and watched Blaise Pascal play an inspired set. Then Ireland's Rollerskate Skinny reinvented progressive rock with a display that has not yet been equaled in my indie pop universe. How could Pavement follow that? They couldn't.
This time it was different. There were a few factors that made this show very enjoyable. For starters, I wasn't so stoned, so the opening band wasn't as impressive. And I finally understood what Bob Nastanovich brings to Pavement. I used to think he was just the token loon, someone for the audience to be amused by. He's all that and more, playing second percussion and weird keyboards; he yelps and he screams. And he is an integral part of the band.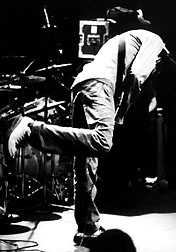 The sound was also the usual high caliber we've come to expect from the Vogue, and the boys from Stockton were definitely up to task. Opening with "Silent Kid," their set was a statement to all who have deemed Pavement unworthy of the indie rock grail they have had foisted upon them. "Transport is Arranged" and "Type Slowly" were summer afternoon boat rides, one with chromatic guitar solos flying overhead like birds, the other traveling through chordal meadows reminiscent of Zep's "That's the Way."
Drummer Steve West, looking every bit the crazed hippie, drove the band like a truck, rumbling down the steep inclines of "Embassy Row," "Stereo," "Westy Can't Drum," and some stomping punk type anthems which I sadly don't know the names of. Singer/guitarist Stephen Malkmus and other guitarist Spiral Stairs were in good voice tonight, cracking and wavering in all the right places, especially on "Embassy Row" and "Starlings in the Slipstream." (I could nit pick about what they didn't play but I won't.)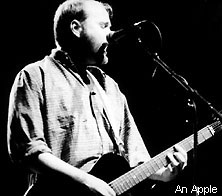 The entire band was visibly happy. Moon-faced bassist Mark Ibold seldom stopped smiling as he bounced and swayed, and even Malkmus looked as if someone was tickling his voodoo doll, thus dispelling the myth of him as cryptic prune. He even laughed at the end of a half-baked stab at Echo and the Bunnymen's "Killing Moon." The girl beside me wasn't laughing, though, as she declared the attempt was "maybe the worst thing I've ever heard in my life" and that "that was just plain wrong and they know it." Pavement aren't gothic by any stretch of the imagination.
I was really looking forward to the Apples in Stereo, them being members of the Elephant Six collective along with the Olivia Tremor Control and Neutral Milk Hotel, but they were a letdown. It sounded like Robert Schneider played the same guitar solo for every song, while the guy behind the frequency modulator made some neat sounds but mostly just blipped and bleeped. The last two songs were the best, very spacey with octave guitar galore and memorable melodies.
---
First published in Drop-D Magazine on May 17, 1997
Index | Search | E-mail | Info | Copyright

Considering copying some of the images from this story?
Please read this first. Thanks.