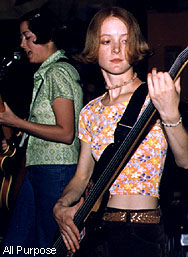 Raspberry Malted, Anyone?
Spiritual Heroine
with All Purpose and Sarah Biggs
Part of Music Waste '97
Cafe Deux Soleil
Vancouver, B.C.
Friday, May 9, 1997

Review by Alphonse Leong
Photography by Todd Duncan
---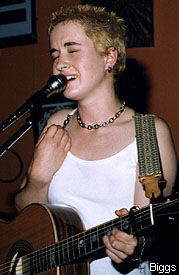 If Archie, Betty and Veronica lived in East Vancouver, they would probably hang out at the Cafe Deux Soleil on Commercial Drive. This place has a cozy little stage (which functions as a kids' play area by day), thick raspberry milkshakes on tap and comfortable booths that evoke a simpler, happier era. This is also where three Music Waste acts put on a clean, unpretentious (mostly) show for a small, but willing audience of funky locals and band tag-alongers.

The lighting was cheesy and the sound system barely adequate for street busking, but opener Sarah Biggs made do nicely; and with just her voice and an acoustic guitar to mic, she had the night's best sound mix. Though perhaps not as expressive and technically proficient as Vancouver's other Sarah (what has she done lately?!?), Biggs has an appealing "aw, schucks" quality and played a set of intelligent, unhurried songs, including a memorable tune called "Mother Goose."

Surf, jazz and a smattering of punk could be heard in the next band, All Purpose. What I remember most is mesmerizing bass grooves and non-standard, but listenable guitar lines, as the vocals were mercilessly buried in the mix. Bassist Dayle Larson is just a tiny wisp of a girl, but she plays one mean and groovy bass! I'll have to make a point of seeing the group again in a better acoustical environment.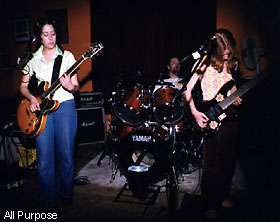 Spiritual Heroine was the final act and had the most visceral impact, due mostly to singer/bassist Camille Baker. Clad in a powder blue spaghetti-strap dress and black knee-high socks, she had the quirky, seductive demeanour of a Twin Peaks character and really injected her own style into every song (so much so that I wasn't completely sure the opening song was a cover of "Fever" until I glanced at the set list later). Their own compositions were quite engaging, and even though I couldn't make out all the words, Baker's playful, sometimes aggressive delivery was enough to keep me interested. Melodically eerie and rhythmically entrancing as the set was, it had to be cut short due to a liquor license time limitation. The band quickly pumped out two driving numbers and Baker bid farewell with a sardonic smile and an offhand wave.
Archie and his pals might not have enjoyed all the evening's bands, but the show was a good cross-section of local independent talent.
---
First published in Drop-D Magazine on May 17, 1997
Index | Search | E-mail | Info | Copyright

Considering copying some of the images from this story?
Please read this first. Thanks.