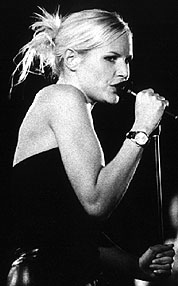 Safe Cars, Porn and...
The Cardigans
with Zuckerbaby
The Vogue Theatre
Vancouver, B.C.
Thursday, May 15, 1997

Review by Darren Gawle
Photography by Rodney Gitzel
---

Remember those ABC after school specials on TV? Remember the junior high school kid who started a band and then faced off against the school bully's group to win the prize and get the girl? Well, that band is alive and well and called Zuckerbaby.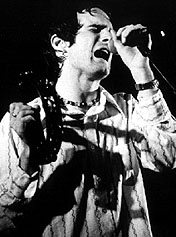 Rumour has it that this Calgary outfit grew out of Smash L.A., with metal posing traded in for some power-pop harmonies, and it almost works. The songwriting is strong, and the guitar playing is virtually wankery-free. Problem is, you get this nagging urge to hold a lit lighter aloft while you watch the band, and the songs somehow seem more than a little contrived. Zuckerbaby also need a little coaching on talking to the audience:
"How many people are here to see the Cardigans?" (Like, all of us, perhaps?)

"We're going to play a few songs, if you don't mind." (Er, never ask for the audience's permission to play. What if they say no?)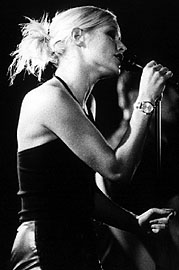 Zuckerbaby, though, does do an adequate job of warming up this all-ages crowd (and I mean just about all ages here...), and after a short but nonetheless excruciating introduction by a couple of Z95 announcers ("Let's show these Swedes they're in Canada now!" Oh dear...), it's time to find out that there's more to Sweden than safe cars and porn stars.
Then again, maybe it's not a good night to be a Swede in Canada. Cardigans' vocalist Nina Persson is finding this out firsthand as a colossal drunken roar erupts from mid-audience:
"Eeurrgh... hammububnarrahwanafuggyoo!"

"But what if I have a bad disease?... I don't even know what you are asking for," she replies in a teutonic deadpan.

"Agnagnagna! Brrowrrrroggeh!"

"You are asking about hockey? Shut up..."

Well, she probably knew that was coming, having taken to the stage in a pair of leather trousers that immediately set off a trouser-teepee epidemic unseen since PJ Harvey's pink cat-suited cavortings two years ago.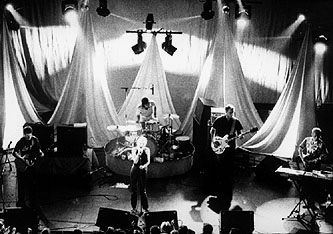 Anyway, behind her, the rest of the band painstakingly tries to reproduce their sparkling indie disco-pop of record, and they succeed in spite of some apparent technical problems: Bengt Lagerberg's ride cymbals fall off the drum riser at regular intervals and Nina's constant trips to the mixing board seem to indicate a bad monitor mix. Through it all, though, they keep smiling and even convey an atmosphere of casual grace.
The Cardigans are the kind of band that knows enough not to plug their new album at the expense of back-catalogue gems: "Rise & Shine," "Daddy's Car" and "Celia Inside" are welcomed, not least by bassist Magnus Svenningsson (son of Svend the Berzerker, Dark Lord of Uppsala, Keeper of the Three Rings of Hfafnigaard, etc... Oh, these Nordic names!), who struts like a kid with a tennis racket in front of his bedroom mirror, trying to look like Gene Simmons.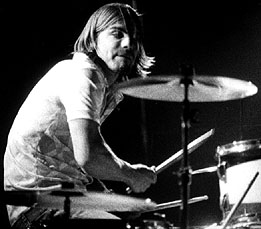 They also treat us to two readings of "Carnival" tonight, the first being a semi-solo spot for guitarist Peter Svensson, a performance which really should become a legend in the annals of Vancouver music. A cathedral silence blankets the audience until Lasse Johansson joins him on keys, at which point you'd think Team Canada has just scored a short-handed tie-breaker.
But it's "Lovefool" that the crowd has come to hear, and it's "Lovefool," complete with magnified disco lighting, that we get as the Cardigans give us the showpiece of the evening. The band serves up a side order of other album tracks like the sublime "Been It," and, being the efficient Swedes they are, they've managed to distract us from the fact that they've played for less than an hour and a half. We're well satiated in the pop department, though, and even the Cardigans are feeling a little redeemed:
"Thank you very much," Nina gushes. "We even forgive you about the hockey!"
---
First published in Drop-D Magazine on May 30, 1997
Index | Search | E-mail | Info | Copyright

Considering copying some of the images from this story?
Please read this first. Thanks.