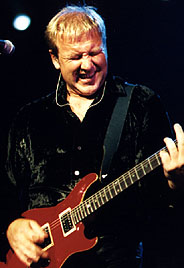 Hot- and Cold-Running Rush
An Evening with Rush
GM Place
Vancouver, B.C.
Friday, May 16, 1997

Review by Darren Kerr
Photography by Rodney Gitzel
---

When I spoke with Geddy Lee during a recent interview, he informed me that this evening's show was to be a self-indulgent full course meal of Rush, and not for the faint-hearted fan. Well, if people are becoming squeamish, it's because Rush are treading the path of the mediocre. Some folks lost interest with the release of Signals, but, over the last decade, with albums like Grace under Pressure, Counterparts, and now Test for Echo,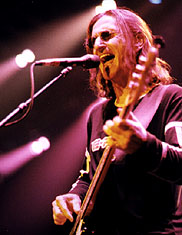 they've been fleeing the Rush camp in droves. If Blue Oyster Cult, Nazareth, and April Wine are any indication, Rush will be playing Studebakers in about five years' time.

For now, though, Sir Alex Lifeson, Sir Geddy Lee and Sir Neil Peart are still relevant, or at least they think they are. Judging from the drunken dinosaurs (the cast of Dazed and Confused twenty years later?) wandering GM Place and reminiscing about loss of innocence and loss of hair, if Rush hadn't been awarded the Order of Canada, they would've certainly been shoo-ins for the Order of Surrey.

Tonight's performance was tantamount to masking medicine with candy. For every piece of epic tripe like "Half the World," "Stick It Out" and "Roll the Bones," there was a classic like "Limelight," "Spirit of Radio," and "Closer to the Heart." For every goosebump, there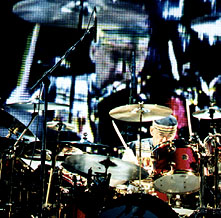 was a thought of indifference. There were moments where you could picture youth, days gone by and even hair. The song suite "2112," which was introduced with its familiar star graphic, was played in its entirety, and, for that portion of the show, I was entranced and transported back to my first ever memories of the band.
Newer songs relied heavily on video footage to elevate them. In the case of "Driven," I don't know whether I paid more attention to the gnomes-on-speed video or to the propulsive groove which the song clings to, but the fact that I even question it makes me deem it a success both musically and visually. For the song "Roll the Bones," the video accompaniment of talking skulls and morphing dice during the rap break was nothing short of inspiring. Dare I say it made you forget that you were listening to a desperate attempt to be in the loop?
The overall song selection was tame, however, with nothing played off the debut album, Fly by Night, or even from Caress of Steel. Moving Pictures was the most represented record, with "Tom Sawyer," "Red Barchetta" and the trademark instrumental "YYZ." "The Trees" was a welcome choice, it not being a 'hit,' and it received a major swell of applause as Lifeson played the first arpeggio. But there were too many glaring omissions to list here, even if they did have only three hours to summarize twenty years of music.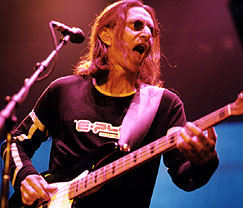 There wasn't one moment during the show when the calibre of musicianship was in doubt, though, and the many Jumbotron blow-ups of the band members only emphasized it. The overhead cam suspended above drummer Peart's head gave some insight into his track back of rolls, flams, and paradiddles (and judging by his bohemian Guatemalan look, he has probably been hanging out with Grateful Dead drummer Mickey Hart). Peart's obligatory drum solo confirmed two things: nobody uses cowbells like he does, and most drum solos are too long (I once saw Cozy Powell play a 15-minute meanderthon). Then again, if anyone should be granted a license to play in a cone of green lasers, it's Peart, and the tail-end saw him playing some syncopated groove which used triggered synths well.
Still, the most telling thing about the show was the encore. After an evening of hot and cold running Rush, the band chose to end this extravaganza with an instrumental. One friggin' latter-day-filler instrumental. No one left amused, thus proving that the only people who Rush are trying to accommodate are themselves.

For another review of the same show, click here.
---
First published in Drop-D Magazine on May 30, 1997
Index | Search | E-mail | Info | Copyright

Considering copying some of the images from this story?
Please read this first. Thanks.