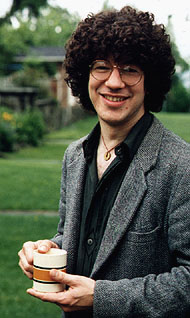 Eat, Sleep, Practice
Vancouver jazz pianist Bruno Hubert
Interview and photography by Rodney Gitzel
---

45-second excerpt from "By Surprise" (various formats)


"I started to play in my first rock band when I was 14, and that band already had gigs around town."

And so Bruno Hubert's "day job" career ended before it even started. For over two decades, the Vancouver jazz pianist has done what a lot of musicians only dream of: play music for a living.

In that first rock band, Hubert played drums. He was earning more gigging than he would working in his Dad's Montreal store, and when he entered college at age 19, he was already planning a career as a professional drummer. Drum students, however, were required to take some piano lessons, which was the beginning of the end of his drumming career.

"College was what made me turn to piano," Hubert says. "Just taking piano lessons on the side for two years, and suddenly, whoops, you find yourself practicing more piano than drums and then you go 'wow, what's happening?'" So he made the leap.

"My father was very supportive -- actually, he was so glad I decided to finally go to piano, because he didn't like drums much at all." That support extended into offering to pay for his son's rent and food for a year to let him get up to speed as a pianist. "That was very important; if I hadn't had that support, it would have taken a LONG long time to start playing piano. But that's all I had to do: eat, sleep, practice."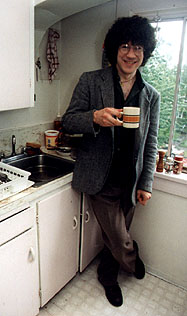 "I started playing classical and jazz and pop, all three styles, and for the longest time made a lot more money playing pop music, like, when I was back in Quebec City, playing for radio shows and TV shows and going on the road accompanying different singers."
"But along the line all my friends were saying, even if you're going to play pop music, if you would just study jazz, the harmony, the theory... and, slowly, you're practicing and playing more jazz, and suddenly, whoops, you find that's all you do."
Hubert moved from Montreal to Vancouver in 1989. A friend had recommended Capilano College's music program, suggesting that its more commercial -- rather than pure jazz -- slant would make him "feel just at home." That it did, and he spent five years studying acoustic jazz piano with Miles Black. "It was fun to study with a guy that young and with that much knowledge," he laughs.
Vancouver is now home. A few years ago he signed on with local trumpeter Brad Turner's quartet, and has recently become a band leader himself, having formed the Bruno Hubert trio with bassist Russ Botten and drummer Paul Townsend, and both bands have been busy (look for the Quartet's Long Story Short CD). He's also been playing, and even conducting, for theatrical productions, and can be heard regularly at several restaurants around town.
But references from both Turner and Black landed Hubert yet another gig: playing on fellow Quebec expatriate Gino Vannelli's new album. "Gino was my idol for a long time," Hubert recalls. "Not because he was a singer, but because of all the drummers that played with him in the 70's, all the stars." A couple years ago, Vannelli needed a tour pianist in a hurry, so he flew Hubert down to Portland: "I was there for 15 minutes and I was already behind the piano and he was behind the drum set, singing some of his hits from the 70's..."
Vannelli is heading back towards jazz, says Hubert. "It's a lot more harder to recognize the songs. He even had a version of 'Black Cars,' all sorts of hits, but absolutely unrecognizable, from the melody down to the bassline."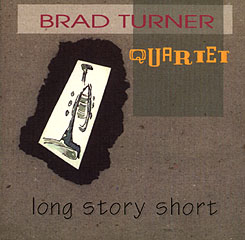 And while the touring gig didn't work out ("my reading, it's like Ray Charles'"), Vannelli was impressed enough to bring Hubert back to play on a couple album tracks, and has offered him use of his studio. But don't look for the Vannelli album too soon: "It's been a year and a half, now. I just talked with Gino, the other day, he hasn't even started the vocals, yet... "
Juggling these different projects isn't always easy: "It takes a lot of practice. And it's almost to the point where you're using a different language," Hubert explains. "Like in this environment I speak French, and in this environment I speak English. Brad's repertoire is more avant-garde, modern type of jazz. Not as easy listening. My trio, it's very accessible music."
"I definitely do not write anything, I'm definitely anything but a composer," he admits, which is a surprise for a jazz band-leader. Does he have no interest? Or is he just really bad at it? "They're sort of together," he says. "I'm really bad at it, so therefore there's no interest to do it. But my friends keep telling me, you don't get good at anything until you do it for awhile... But as hard as it was for me to start playing piano later in life, it's even harder to start writing."
Which isn't to suggest that he sticks only to jazz standards: "I search for original stuff from a lot of my friends that write music. All I have to do, then, is adapt it for my own band. And that, to me, works well. I would say 80% of my repertoire comes from my piano teachers, from Brad Turner or different friends... "
Both the Quartet and the Trio are scheduled for a lot of shows each at this year's Jazz Festival (including a Trio appearance at the Vogue Theatre on the 23rd), and Hubert is looking forward to it: "I would compare it to Christmas! Suddenly in nine days you make more money than in the rest of the year. And it's like a big reunion, everybody's there at the same time. Everyone rehearses more, organizes their groups a little more, gets fine-tuned... "
"The Jazz Festival keeps a LOT of groups alive. It gives you focus, definitely a time of year when you are featured and everyone's going to be there listening."
---
First published in Drop-D Magazine on June 7, 1997
Index | Search | E-mail | Info | Copyright

Considering copying some of the images from this story?
Please read this first. Thanks.