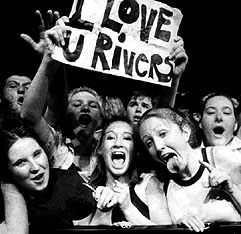 Ooo-wee-ooo I Look Just Like Gwen Stefani
No Doubt
with Weezer and Ednaswap
Pacific Coliseum
Vancouver, B.C.
Monday, May 26, 1997

Review by Alphonse Leong
Photography by Rodney Gitzel
---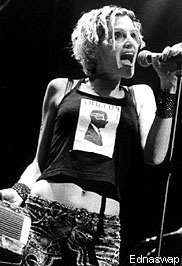 I have to admit I was pretty excited about seeing No Doubt and, when I arrived at the Coliseum, I found that I wasn't the only one. I haven't been around so many giddy young girls since I was in junior high! It's good to see that Gwen Stefani has become such a role model for today's young women -- she's like a Madonna without the bad attitude (although Miss Ciccione was pretty sweet at twenty-seven, too).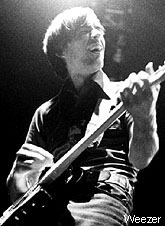 The first band of the night, Ednaswap, also had a vocalist who reminded me of a young Madonna, though what I remember most were some Yoko Ono-like yelps she made during their last song. Naturally, they played to a fairly sparse crowd and, though they had a solid, aggressive sound, there was a soundcheck-ish atmosphere to the whole set.
Considerably more people were around by the time Weezer nonchalantly stepped on stage. These guys have an undeniable charm and their songs are pleasantly cute. I never get tired of hearing "Buddy Holly" and they performed the song with genuine relish, with a special emphasis on the ooh-wee-ooh's! The band received the ear-splitting shrieks from the girls in the audience with an almost bemused pleasure. Wearing unfashionably bright short-sleeved shirts and standing under a big, lighted "W" (for Weezer, I guess), they looked like the classic high-school misfits whose time has come.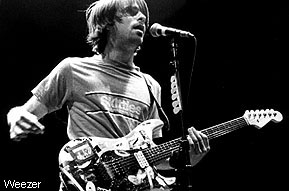 There was a genuinely profound moment of anticipation as the lights went down for the final band of the night. The crowd erupted into a roar and all eyes were searching for signs of No Doubt. Finally, after a rather contrived light and sound effects preamble, Stefani (in a black jacket that couldn't hide her bare midriff) and the boys weaved onstage and began a ska-tinged groove. Immediately launching into her shrill yet strangely appealing vocal style, she wasn't entirely intelligible, but you couldn't take your eyes off her as she pranced unabashedly up and down the stage. I can't think of anyone other than Mick Jagger who has such a natural, uninhibited physical presence. Whether jumping on top of speaker cabinets, sliding across the stage or simply mincing around a mic stand, she had a winning exuberance that was mesmerizing.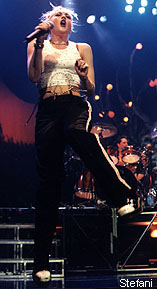 Taking off her jacket before the second song, she looked more like the girl in the videos, wearing the self-designed white mini-tanktop and black harem pants. Addressing (sort of) the audience for the first time, she looked up with wide eyes and shouted: "Holy shit! Look at all those people!" Then she looked serious as the opening guitar riff of "Just a Girl" began. Stefani infused the song with such passionate conviction that I could almost relate to her tortured refrain: "I'm just a girl... that's all you'll let me be!" I wasn't the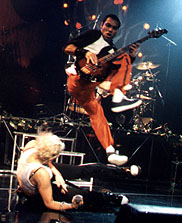 only one; in a hilarious and inspired sequence, Stefani had all the "Canadian boys" in the audience singing on the chorus!
The band's other singles, "Don't Speak," "Sunday Morning" and "Spiderwebs" were performed with tremendous vitality as Stefani worked tirelessly to get everyone involved ("I want every fucking one of you to stand up and jump with me!!"). Surrounded by ecstatic pubescent young girls and equally enthusiastic mothers, I couldn't help but feel a bit like one of those fifteen-year-olds who saw the Beatles on the Ed Sullivan Show. And indeed, with the band's last song (a cover of "Ob-La-Di, Ob-La-Da") still in my head as I exited into the night, I was sure that I had just enjoyed a truly remarkable gem of a show.
---
First published in Drop-D Magazine on June 7, 1997
Index | Search | E-mail | Info | Copyright

Considering copying some of the images from this story?
Please read this first. Thanks.