Taking a Bite Out of Rockphobia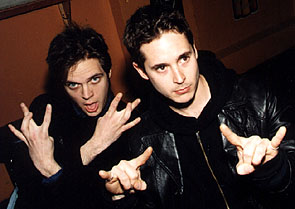 Rob Higgins and John Richardson of Change of Heart
Interview by Paul Watkin
Photography by Suzanne Goodwin
---

44-second excerpt from "Tongues" (various formats)


Change of Heart.

The name has been around Canadian music circles for about 15 years now. There have been a number of albums released, numerous tours undertaken and billions of shows played. The band have won $100,000 in Toronto radio station CFNY's 'Discovery to Disc' competition, have blown up their van on national television, have gone through numerous line-up changes, and have partaken of the arena rock show experience with the Tragically Hip.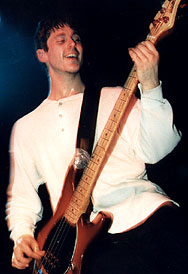 Not bad for a band that, for all intents and purposes, has been around for only a year and a half. You see, Change of Heart, the band we know today, wasn't really formed until the new guy, bassist Rob Higgins, joined keyboardist Bernard Maiezza, singer/guitarist Ian Blurton and drummer John Richardson. As Rob and John explain, "We like to think of this band being together as a unit for 18 months to two years... and riding a twelve-year reputation."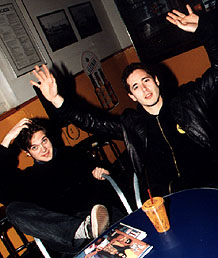 It is this consistent, fresh way of thinking that has helped keep Change of Heart from being grouped with other rock bands. Says Rob, "I don't really see COH as the leader of any pack of bands or the follower of any pack of bands. COH has been doing its own thing for long enough that they kind of defy that type of description or narrowing. COH is all over the place. One of the most frustrating things is that so many bands that are very popular do one thing exceptionally well, and that's about it. One of the things that make COH special and unique is that they do a bunch of things well. There isn't one aspect of the band that they exploit to create a flavour."
"I'm not embarrassed to say that I'd like someone to say 'COH rocked my ass,'" he continues. "That's all we intend to do, is to get a rise out of someone and rock their ass -- and I'm not afraid to say that in 1997. A lot of people are afraid to say that; there are a lot of bands that are afraid to associate themselves with rock. I think it's cyclical and rock is at a stage right now where it is going underground. You have the death of some icons and a few bad shows ... and other genres rise for a while. I think that's why a lot of bands would rather say that they're an eclectic, electronic, fusion-rock type band instead of just saying they're a rock band. Or a lot of bands would rather say that they don't rock, they harmonize. It's been very tiring, and it's sad."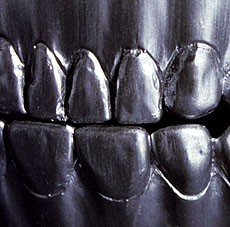 Then he laughs: "Bands like NoMeansNo or the Hanson Brothers certainly aren't afraid to rock, though! Rob Wright is my idol... "
Even after a single listen to Steelteeth, the band's new (and second) Virgin Records release, it is apparent that COH take this 'rock your ass' philosophy with them into the studio. But this record also saw a different approach for the band.
"We had about 24 songs between the four of us to pull from," says Rob. "At one point we had to stop writing, just because we had so much material coming into the sessions. Ultimately, making this record became a grueling matter of picking 14 songs for the record out of twenty-some songs that we had. I think that's why it became a song-based record as opposed to an album concept."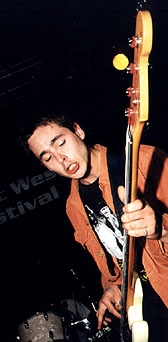 John offers a little bit of history: "Definitely with the last two records [Tummysuckle and Smile] it was a conscious thing, to make them flow as one continuous piece of music and not have gaps in-between songs. I personally got tired of that, so I think it was partially a conscious decision to make this record a collection of songs."
John is also quick to point out however that, "Change of Heart is more than just 'It Should Be' or 'Herstory' [from Tummysuckle]. The last time we played in Vancouver, people just came out to hear 'It Should Be,' and then they heard the ugly rock songs, too, and I don't think we were the band they thought we were. I think that's good because it opens them up to stuff they normally wouldn't listen to."
That last show in Vancouver was at the Town Pump and, ironically, the band recently came back to town and played the last show at the Town Pump before it became a dance bar. So, as rock moves underground, so do those who aren't afraid to get their asses rocked. But, judging from audience reactions, Change of Heart shouldn't change a thing.
---
First published in Drop-D Magazine on June 13, 1997
Index | Search | E-mail | Info | Copyright

Considering copying some of the images from this story?
Please read this first. Thanks.