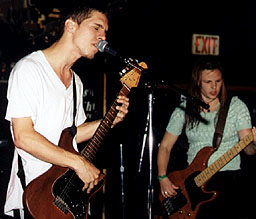 Guitars 3, Vocals 0
Dick 'n' Jane
with Breathe Underwater and Bonafly
The Starfish Room
Vancouver, B.C.
Saturday, June 7, 1997

Review by Alphonse Leong
Photography by Rodney Gitzel
---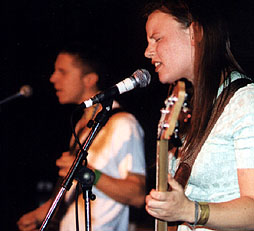 Jimi Hendrix might have enjoyed this evening at the Starfish: the guitars sounded cool, while the vocals were a little rough.

Hendrixian wah-wah guitar effects were very pronounced in opening trio Bonafly. This youngish-looking group possesses a driving sound from a bygone era (maybe the mid 70's?). While the grooves were listenable, I had to grimace a little as the bassist started to sing. Rarely do I hear a female vocalist that doesn't have some appeal, but this particular voice had an unruly, shouty quality that was jarring. On the whole, though, the band performed an enjoyable set that made me nostalgic for Deep Purple and other 70's monolithic groups.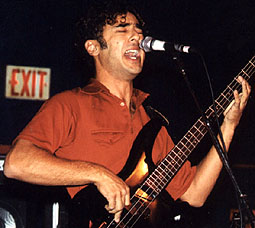 Second band Breathe Underwater came on with a solid blast of kickass bass, drums and guitar and they kept up an unyielding energy throughout their whole performance. Leaping and flailing like a young Pete Townshend, the guitarist showcased some tasty lines and a grasp of showmanship. The drummer became mobile, too, as he came out from behind his kit and tapped a few funky notes on the bass with his drumsticks!
There was definitely a schizophrenic component to the band's style, though: what started out as aggressive guitar rock suddenly turned into Nashville country by the third song! The musicianship of the threesome was evident (we were even treated to a drum solo, which is as rare nowadays as cheap parking downtown), but the set had a disjointed feel with its sudden mood swings.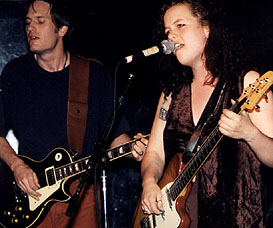 For some reason, I thought from their name that Dick 'n' Jane would be a cutting edge grunge group, but, no, they were definitely a country-flavoured rock band. The bright, ringing guitar chords were there, and the steady on-the-beat bass lines were there, but the great vocals were not there. At times sounding like a Chinese opera singer, the lead vocalist/guitarist wasn't terrible, but she drew attention away from the songs with her deliberately quirky stylings. The band was solid, if unspectacular, and the tempo was a bit brooding. Maybe if I hadn't come expecting the next Nirvana, I could have enjoyed them more.
Guitar-wise, a worthwhile evening, and vocals-wise, a strange evening; but regardless there was a rather thin crowd present to take it all in. As usual. Vancouver, support your local musicians!!
---
First published in Drop-D Magazine on June 13, 1997
Index | Search | E-mail | Info | Copyright

Considering copying some of the images from this story?
Please read this first. Thanks.