Freako Goes (Music) West
Part 1, Part 2, Part 3

Music West '96
Vancouver, B.C.
May 2-5, 1996

Text by P. Freako
Photography by Rodney Gitzel
---

Friday morning. Feeling brave, I wandered down to the Music West conference at the Plaza of Nations. The first sight I saw was music industry shmucks, and the horrible realization set in that I had not gotten rid of all the evil bloodsuckers. Sigh. Ahhh to hell with it, I'll drown my sorrows in boring seminars. They're usually not too hard to find. I shouldn't knock them, but you know, I wish more bands would attend these things. The more of the business side the band knows, the better; the more control they can take of their own career, the more the music business folk can be held accountable, the better the situation for the band. These industry types know this stuff already and most of the time it's an egofest. Christ, there's enough music conferences already, why don't we lose that part of Music West and just make it a live band-a-thon?. Something to think about for 1997.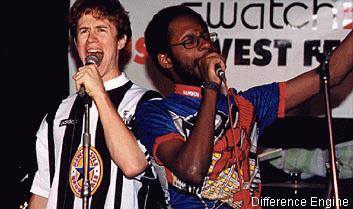 Friday night I ventured down to the Phunky Toad to catch DSK, and, meeting up with our beloved editor, we heard a couple of songs and mutually decided that that was about enough of their hard edge rock sounds for tonight. I don't know, they just didn't seem to bring anything unique to the situation. Anyway, back out I go and it's off to the Hungry Eye to catch a band called Difference Engine. They had kind of a funky, rock, in your face vocal thing happening and managed to bring out a lot of noise with one guitar and one bass. Dare I say a rasta version of Faith No More? They were great! The one lead singer (there were two) was bounding about the stage in his satin Spidey top and whipping the crowd into a mild frenzy. End of the month at The Gastown Music Hall is where you can see them next. I'll be there.
I like "The Eye," so I stayed for some more. Are you ready? Close your eyes, relax, empty your mind and imagine the following scenario: The Rocky Horror Picture Show goes Hardcore Punk. Does that scare you? It should! I'm talking of course about The Muscle Bitches, who were @#!%&$ fantastic!! Comprised of band members sporting (variously) a black dress with red frills, a g-string, a pink jumpsuit and a blue mohawk with a Mr. T. lookalike beard, they jumped and blared their loud, in your face, interactive, insane hype with sweat pouring from every fibre of their being. It ruled.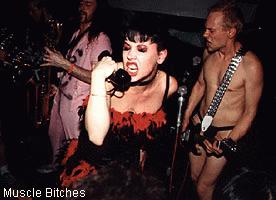 Still dizzy and delirious from the Muscle Bitches, I thought I better hang around a while longer. This resulted in me catching The McRackins. You've seen them, these three guys with their painted faces and white outfits, two dressed up as eggs and one as a dog. You can't miss them. They're always around aggressively promoting themselves, so I thought I'd finally see them. They put up chicken wire in front of the stage, to give it that cool country look I suppose, and had a guy dressed up as an 80 year old man bobbing his head and pounding beer, which was funny, which is good. Their music was heavy rock with that modern edge, but I've heard it before and nothing really stood out for me, musically that is, but I will say they are quite the hypesters and make their surroundings unique.
Feeling more stable, I returned to the Toad to catch Seattle's Lloyd's Rocket. Sporting a new bass player, they performed more of their slick alternarock to the sparsely attended room. It was late after all and people were tired, I guess. Yah, whatever. They were slick from start to finish and offered some smooth power guitar combined strong vocals making for a mix of good songs and thusly a good set. We've reached the halfway point of Music West. Time for a stretch.
First published in Drop-D Magazine on May 12, 1996
Index | Search | E-mail | Info | Copyright

Considering copying some of the images from this story?
Please read this first. Thanks.