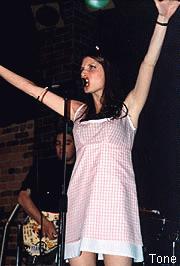 Westing and Wasting the Nights Away
Two nights of Music West and Music Waste
Vancouver, B.C.
May 3-4, 1996

Text and photography by Rodney Gitzel
---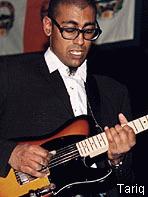 It looked to be a long Friday night of wandering around east Gastown, with there being a half-dozen or so Music West and Music Waste venues in the area. Where do I start? First to the Town Pump for the early show. Hmmm. Isn't that the guy from the Watchmen? Nope, it's Tariq. Laid-back pop, with a little blues and folk thrown in. Not bad, either. But Samoo's Pub awaits, so it's off to that Music Waste venue to catch Vancouver's Reggie, who are certainly not far out of the garage. A young punk-pop band, they were actually pretty good. They were tight, played decent-sounding originals, and the singer has a very... motionful?... face. They do need to work on their harmonies, though. Eeeeeg.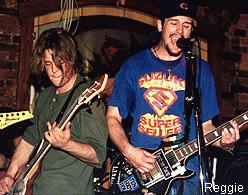 During the break after Reggie I popped over to the Phunky Toad and Music West to see what was happening there. Doh! Something very cool -- Vancouver's Tone -- was happening there, and I missed the first half! Enjoy it while I can. What are Tone like? Well, take a solid almost-metal band, add a manic baby-doll who sounds like a mix between Yoko Ono, Kate Bush and Geddy Lee, and throw in some cool tunes. That's Tone. Cool.
Back to Samoo's, where Fon Fon are finally appearing. By now it was apparent that Music Waste was not running as smoothly as Music West -- but then, they didn't have much of a budget, so it's not a biggee. They shouldn't have scrimped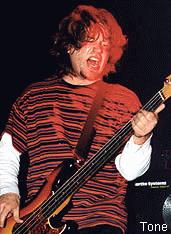 on the sound system at Samoo's, though. Ug. The main PA kicked in and out continuously through Fon Fon's set. The band managed to get the music out through their monitors, but Siobhan Duvall's vocals suffered awfully. Sigh. The only standout was the Bombshells' tune, "Social Misfit," during which everything seemed to come together for the band, albeit temporarily. Next time.
Back to the Toad. Meet P. Freako there. There's a lot of racket coming out of the PA, and someone's doin' some hootin' and hollerin' up on stage. DSK, apparently. BZZZZZT! No thanks. Off to the Hungry Eye we go.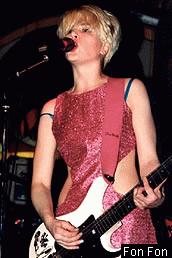 Good thing, too, or we might have missed Difference Engine. At first I was scratching my head, a bit. Hmmm. Two saxes and a rock trio. Uh, ok. Then the saxes were laid down and band went into serious rap metal mode. Wow! One guitar and one bass doesn't usually make such a heavy groove, but there it was. And with two manic vocalists running about, one on the dance floor, and one tall skinny rasta-lookin' guy -- complete with Spiderman spandex -- on the stage, it was quite an entertaining set. Worth checking these guys out.
But Difference Engine was just a warmup. Next up was the... amazing... Muscle Bitches. There must have been some problems fitting so many psychos on that tiny little stage, as they seemed to be spilling out onto the dance floor. No wait, those guys are just part of the crowd. Geez -- psycho central tonight! Fifty minutes went by real fast, with the Bitches hauling out every 70's and 80's metal cliché you could ever dredge up and making an incredible show of it. What can I say? There were red feathered boas, pink spandex,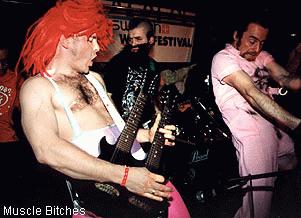 leather g-strings, blue mohawk skull caps, a whole band's worth of miniature guitars and basses and more sweat hanging in the air than in a football team locker room. Most most most definitely, these guys should be seen by all. I'm still shaking my head in amazement.
The McRackins were next, but they were taking forever to set up a chicken wire fence (!) in front of the stage, so I left and went back to the Phunky Toad, where Lloyd's Rocket were to play at 1:00am. They really impressed me last year, so I was looking forward to seeing them again. But it seemed another band must have been substituted at the last minute, and they were kinda lame. The singer was wearing pleated pants and a slick sports coat -- what, does he think he's Gavin Friday? And such an air of sombre seriousness over the whole thing! I started to wonder when Lloyd's Rocket was coming on. Uh oh. Wait a minute. I recognize the singer. This can't be the same band that tore the floor off the Pump last year! But apparently it was. BZZZZT! Take them off my Christmas CD list.
---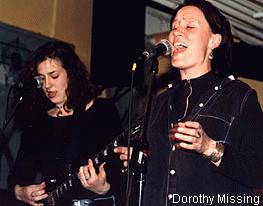 Since Friday night had been mostly successful, I was looking forward to more of the same, Saturday. Nope. Got off to great start at the Route 66, where a new Vancouver band, Dorothy Missing, was playing. I was impressed. Straight-forward pop done really well. Strong and throaty female vocals, aggressive drumming and a surprising amount of melodic wailing on the guitar made for a very enjoyable set. So far so good.
Head off to the Unicorn over at the Plaza of Nations, where I manage to peek over the fence at the end of the Bad Religion show. The acoustics were atrocious! But, hey, apparently the "Bad Religion takes VISA" signs were out at the t-shirts stands, which makes up for the sound, doesn't it? I hope all the skaters had their parents' plastic with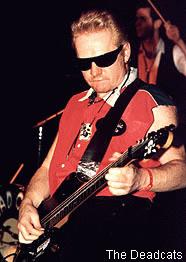 them. Anyway, inside the Unicorn, Art Bergmann was finishing up his rockabilly set. "Huh?" Whoops, nope, that's Eugene Ripper, and he was doing, well, a whole lot of abilly things. Metal-abilly, punk-abilly. Just him, his guitar and a drummer. Not bad.
But I was here to see the Deadcats, they having plied me with a copy of their CD, Bucket of Love, the day before. Now, granted, they did fill the dance floor pretty quickly with their "hillybilly/surf/punk." And washtub-bassist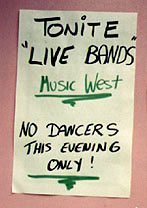 Scooter did light his washtub (and, very nearly, himself) on fire a couple times. But, overall, the performance was off, like maybe this was a quickie show at some friends' party, and not a showcase at Music West. Oh well. Their CD is pretty cool, though.
Finally, over to the Penthouse, where the hookers and legitimate businessmen were a little confused. No strippers tonight! Instead, a rather intense Music West bill, culminating in Download. The band was in midst of downloading on the almost full house when I arrived. Hmmm. One guy beating on a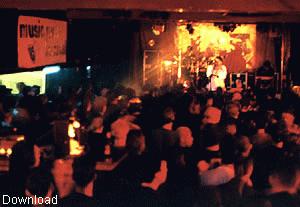 big set of digi-drums, and two guys with racks of electronic toys. Couldn't tell them apart, aurally. Improvised noises and distorted mutterings over heavy techno loops. The crowd stood there, blank-faced, starring up at the band and the lights and film loops projected over everything. The crowd hooted and hollered whenever it seemed a song had ended, but, quite very frankly, if a member of Skinny Puppy hadn't been in Download, I doubt most of the crowd would have been there, much less been cheering the band on.
Another Music West come and gone, another weekend of hit-and-miss shows. Just so long as the hits keep outnumbering the misses...
---
First published in Drop-D Magazine on May 12, 1996
Index | Search | E-mail | Info | Copyright

Considering copying some of the images from this story?
Please read this first. Thanks.