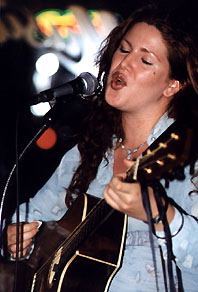 Princess of Darkness No More
Kristia Sheffield
The Southhill Candy Shop
Vancouver, B.C.
Saturday, June 21, 1997

Review by Michele Martin
Photography by Rodney Gitzel
---

Stepping into the Southhill is like stepping into a good friend's home -- the atmosphere is warm and inviting, the coffee pot is always on, and you know you're always welcome. So when I arrived a few minutes late for the start of Kristia Sheffield's performance last Saturday, I felt like I was interrupting an intimate gathering of old friends. As you walk through the front door you walk into the space where the musicians play, which means smiling weakly and scurrying past to find a seat as people stare at you indignantly for blocking their view. And, having heard and seen Sheffield perform, I understand their annoyance.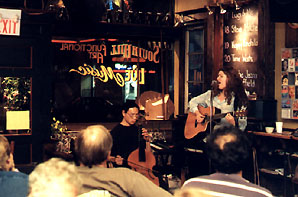 At the ripe old age of 20, Sheffield is already an inveterate musician with one CD, Songs for the Fallen, under her belt and another in the works. Accompanying herself ably on guitar, and with James Ong on keyboards and viola de gamba, Sheffield wove a comfortable yet intoxicating spell with her undeniably pretty and powerful voice. But Sheffield's is more than just a pretty voice -- it's also capable of great strength and diversity, as evidenced by the choice of material, which varied from the honky-tonk of "Lou's Garage" to the boldness of "Passages" to the breathy softness of Leonard Cohen's "Suzanne."
Sheffield is enjoyable to watch, particularly in the closeness of a venue such as the Southhill. In spite of all those years of performing, there's still an anxiety and tentativeness which comes across in a very appealing way as she establishes a rapport quickly, trading quips with the audience and introducing her parents, who were also present.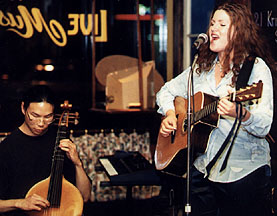 There's also a lot of self-deprecating but good-natured humour in her presentation. At one point, a couple stuck their heads in the door, but then left after Sheffield mentioned difficulties with a particular guitar in view of her, ahem, cleavage: "I scared them off by talking about my boobs!" Her between-song chatter was witty and amiable, and she even expressed her appreciation a few times for our attentiveness to her performance.
The evening ended all too quickly and Sheffield's fans wanted more, but she had an ace up her sleeve: she'd play another song only if it were a country song. A few groans, my own included, but the majority of people assented, so off she went to do a good job with just the right western twang in that big, full-bodied voice.
Not surprisingly in view of her relative youth, Sheffield still manages to miss a few of those high notes, her voice cracks on occasion and at times she's a little nasally, but those few minor foibles aside, what she can do with her voice already is amazing. I can hardly wait to hear her in a few years as her voice matures -- there'll be no stopping her.
Early into the show, Sheffield received the ultimate Canadian accolade as one fellow at the next table shared his opinion with his companions: "She's good, eh?" She certainly is.
---
First published in Drop-D Magazine on June 26, 1997
Index | Search | E-mail | Info | Copyright

Considering copying some of the images from this story?
Please read this first. Thanks.