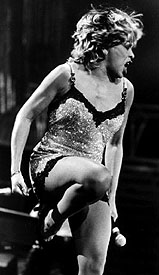 Still Simply the Best
Tina Turner
with Cyndi Lauper
GM Place
Vancouver, B.C.
Monday, May 26, 1997

Review by Michele Martin
Tina Turner photography by Dan Zubkoff
---

Cyndi Lauper. Hmm. Didn't she have a song way back when about girls having fun? Yes, that Cyndi Lauper. Well, she's come a long way, and is now determined to prove that women just want to have fun. It was rather strange to see her on stage, purple-haired and pregnant, living proof that, as she stated, "Contrary to popular belief, we do work during pregnancy!"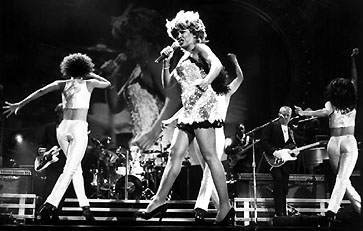 Unfortunately, while Lauper's singing voice has matured, her speaking voice still has the nasally, grating tones of a real New Yawker. She spent too much time yapping at the mostly 40-ish crowd in the half-filled house -- and they didn't want sappy ballads about pigeons, they wanted "Proud Mary." Even a poignant "Time After Time," complete with haunting violin, failed to get a rise out of the audience during the short set.
Finally, though, the restless fans got what they came for as the curtains lifted to reveal a futuristic-looking stage, with staircases at either end, a large screen at the back and a full complement of musicians playing their respective hearts out.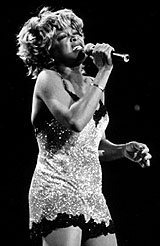 To a cacophony of applause, Tina Turner arrived on stage, showing off her famous legs and inestimable chutzpah in a short and sleek silver dress. Sharing the stage with a trio of lithe, silver-clad female dancers, Turner belted out "Whatever You Want" to her appreciative fans, making a smooth transition to "Do What You Do," helped along by an impressively clear sound system.
Turner went a long way back for the powerful "River Deep, Mountain High." Interestingly, even as she put everything into performing the current number, highlights from performances long past, complete with Ike and the Ikettes, were being played on the back screen, and the contrast was startling, to say the least.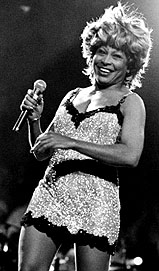 The mood changed significantly as Turner slid into the opening chords of "Missing You," followed by a few disco-ish numbers during which she and her trio played with the well-muscled Fabio-look-a-like percussionist/saxophone player. Highlights included a slinky "Goldeneye," with the stage lit up like a space ship and Turner dressed appropriately in secret agent black complete with matching Matahari dancers, and a provocative "Private Dancer." During "We Don't Need Another Hero," film clips from Mad Max Beyond Thunderdome played out on the back screen while Turner's plaintive tones rang out.
Turner then did something she doesn't normally do on stage: "I'm gonna sit down and sing for you." And so she did. "Let's Stay Together," "I Can't Stand the Rain," and "Undercover Agent for the Blues" followed, each sounding markedly different in this "acoustic" format.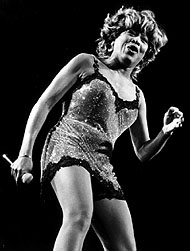 Following a revved-up version of "Better Be Good to Me," Turner segued into the twangy and slightly menacing tones of "Addicted to Love." Turning "Simply the Best" into a sing-a-long, she had everyone shouting out the words on cue. "What's Love Got to Do with It?" was next, with Turner once again encouraging the audience, the female members in particular, to shout out that all-important question.
Having introduced her long-time band, Turner stated simply "... and me, I'm Tina... and this is Mary, 'Proud Mary.'" True to her word to do it "nice and easy" and "nice and rough," Turner presented two different versions of the song that many still consider "her" song: the first part bluesy with the harmonica wailing in the background and the second part classic Turner -- flat-out wired and raunchy, yet still in control, strutting and stalking about the stage with that marvelous howling voice hitting every note just so to give you shivers.
For the encore, Turner chose another old classic, "Nutbush City Limits," and ended with "On Silent Wings," the audience waving in unison and providing Turner with a well-earned standing ovation.
The times have changed, and so has Tina Turner. But lucky for us, she just keeps on getting better and better to remain, indubitably, "Simply the Best."
---
First published in Drop-D Magazine on June 26, 1997
Index | Search | E-mail | Info | Copyright

Considering copying some of the images from this story?
Please read this first. Thanks.