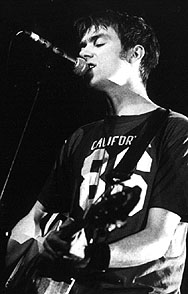 Blurring the Line Between Boring and Pathetic
Blur
with That Dog
The Rage
Vancouver, B.C.
Thursday, June 19, 1997

Review by Darren Gawle
Photography by Rodney Gitzel
---

Halfway through tonight's set, Damon Albarn decides to address the audience for the one and only time this evening:

"Anyone remember the first time we played here?" he asks, alluding to Blur's infamously alcoholic Vancouver debut when the Rage was known as 86 Street.

"How were we?... I think we were shit."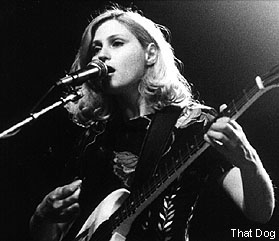 The more things change, the more they stay the same. Blur, of course, aren't shit, as such, this evening, but they come close; and it's mostly due to an attitude which indicates that they'd rather be elsewhere -- and by the end of the show I'm wishing they were elsewhere, too.
Openers That Dog certainly don't appear to wish they were elsewhere, and with only a handful of people in the audience that even know who they are, it's time to let their tunes turn on the charm and win them some new fans. Led by the diminutive Anna Waronker (the boom on the mic stand almost points down at her), That Dog is a world of Liz Phair-a-Go Go's pop with three-part harmonies and the violin of Petra Haden. They have a rocky start, though, due to an odd sound mix which pushes the vocals so up-front that you cringe at every fluffed harmony for the first four numbers. That Dog soon warm up and render the rest of their set confidently enough to convince more than a few bods in the house to get up and groove. And, for the rest of us, their ability to write a hook will probably evidenced by the bump 'n grind lyric "You're pretty dreamy for a boy from Long Island!" running through our heads for the next few days.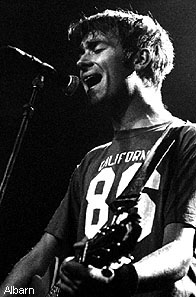 Blur, of course, are past masters at writing hooky songs (if you can't spot the hook in "Song 2," then you deserve to have Peter Hook shove Capt. Hook's hook up your ass with a note attached to it saying "this is a hook"), and have the back catalogue to prove it. They are also (according to more than a few female members of the audience) well-shaggable young men who should have the energy to put on a memorable show. This they fail to do in spades.
It's not the setlist that disappoints: although favourites like "There's No Other Way," "For Tomorrow," and "To the End" aren't on the agenda tonight, we get our share of chestnuts like "She's So High," "Popscene," "Advert" and "This is a Low," in addition to the obligatory readings from Parklife and Blur. And the set starts off promisingly enough, with the band taking to the stage with a slow-burning "Beetlebum" to set the audience alight. (And pity our poor photographer, who's just come from having 14-year-old girls scream in his ear at Bush, only to be subjected to the screams of girls who should be old enough to know better...)
The problem with Blur tonight is that we're not here to just listen to their music (God knows we can do that with their five albums in the comfort of our own homes), we're here to be entertained. Blur, on the other hand, with their sloppy, half-assed performance and Damon's "c'mon let's get this over with" head-bobbings and skyward looks, appear to be here to run through their set, collect their cash and retreat to the comfort of their hotel rooms.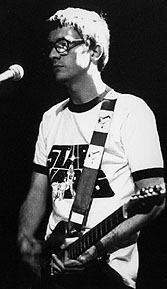 And, so, songs like "M.O.R.," "Song 2" and "Parklife" are given a sloppy rush job, while "I'm Just a Killer for Your Love" and "This is a Low" meander without a hint of dynamics or enthusiasm. And the crowd goes wild for more!
I'm sorry, but Blur just playing their hits doesn't cut it anymore, as if doing us the favour of showing up just because they happened to be in the neighbourhood warrants our unconditional worship. This goes beyond being patronizing -- it's condescending. And it doesn't take a lot of brains to see that anyone can rebound off the drum risers like an enraged spider monkey during a punk pastiche like "Chinese Bombs" -- it's a shallow substitute for some real enthusiasm. Maybe Blur should lay off paying us a return visit until they actually feel like playing Vancouver again.
You may love Blur -- and hard as it may seem now, I still love Blur (on album, that is) -- but maybe we should face up to the possibility that the feeling isn't mutual.
---
First published in Drop-D Magazine on July 5, 1997
Index | Search | E-mail | Info | Copyright

Considering copying some of the images from this story?
Please read this first. Thanks.