Yeah, Oh Yeah!!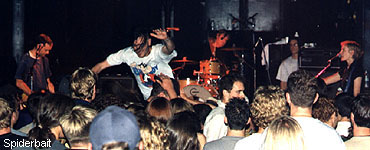 Spiderbait
with JP5 and Jack Tripper
Starfish Room
Vancouver, B.C.
Friday, June 20, 1997

Review by Alphonse Leong
Photography by Rodney Gitzel
---

After listening to their latest disc, Ivy and the Big Apples, and hearing good buzz about them, I was curious to see how Spiderbait would sound live. I wasn't disappointed. Spiderbait is the most interesting band I've seen in a long time, and judging by the huge turnout at the Starfish, this odd trio from Syndey, Australia is winning over quite a few people here, a hemisphere away.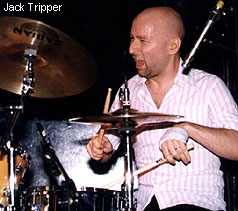 Local opening act Jack Tripper began their set with a brooding, ponderous song that stretched out way too long. Maybe it's gutsy to subject your audience to a dark, meandering opening number, but it could lead to an uninspired, indulgent performance. That's not completely what happened, as we did hear feisty guitar-riffing on a few songs, but there were a lot of moments when you wondered when they were going to finish.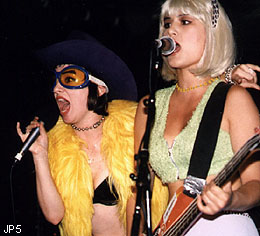 You have to admire the audacity of JP5's frontwoman to come onstage wearing a cowboy hat, a black bra, flying goggles and a yellow feather boa! With all the flair and energy of an exotic dancer, she ignited the crowd, ventured onto to the dance floor occasionally and generally hammed it up like a rock 'n' roll Liza Minelli. Definitely a visual band, the bassist looked (and acted) like a giant Barbie doll and the guitarist had all the rock god grimaces down. There was some intensity and groove in their music, but I kept thinking that this band must be the result of some late-night scheming by a hairdresser and an unemployed fashion model.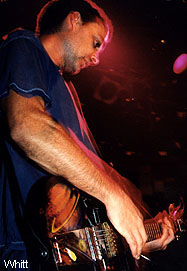 Spiderbait walked on stage to welcoming cheers from a thoroughly warmed-up audience. In a thick Aussie accent, drummer/vocalist Kram announced that this was the final gig of a six-month long tour and shouted, "Are you ready?!" as the band launched into "Chest Hair." This Led Zeppelin-echoing song paved the way for a remarkable set that ran from razor-sharp speedmetal ("Hey") to ambient instrumentals ("When fusion ruled the earth") to optimistic pop ("Calypso").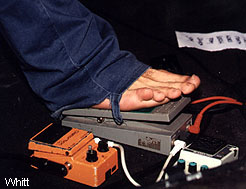 Making a peculiar sight on stage (Whitt, the very talented guitarist, stood almost motionless, with his head serenely bowed to his instrument, and Janet, the sinewy bassist, often had the dreamy look of someone engaged in a quieter endeavour), the band had a surprisingly powerful, full-bodied sound for a three-piece. Curmudgeonly Kram seemed to be directing all the action; certainly he was the most vocal ("'Ey, you, yeah you!! Fucking bloody loudmouth!!" he called out to someone against the stage who apparently wasn't being attentive enough.). Janet, too, displayed an Aussie "take no guff" attitude as she made snide remarks about the sexual orientation of two hecklers only a few feet away from her.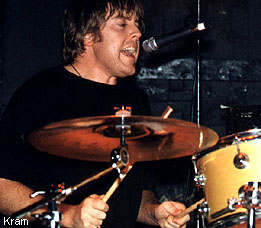 Though lyrics like "I ride the highway with Jesus, He drives the bus while I sleep" or "Sunshine on the window makes me happy..." and choruses like "Yeah, oh yeah!" might make you think otherwise, Spiderbait's repertoire has an appealing hard edge and sophistication. Couple that with a no-nonsense attitude and tight chops and you've got one of the best bands to come from down under since Men at Work. And even Kram's parting remark, "Good night, I hope I never have to see your ugly faces again!" (it's been a long tour for him, I guess) doesn't diminish their appeal.
---
First published in Drop-D Magazine on July 5, 1997
Index | Search | E-mail | Info | Copyright

Considering copying some of the images from this story?
Please read this first. Thanks.