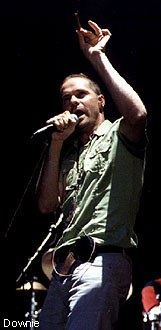 Pretty Damned Good Music, Eh?
Another Roadside Attraction
with the Tragically Hip, Sheryl Crow, Ashley MacIsaac, Wilco, Los Lobos, Change of Heart, Mutton Birds and Ron Sexsmith
UBC Thunderbird Stadium
Vancouver, B.C.
Thursday, July 17, 1997

Review by Alphonse Leong
Photography by Todd Duncan
---

With all the afternoon UBC-bound buses packed like cans of young and restless sardines, you knew something was afoot at Thunderbird Stadium. It was yet Another Roadside Attraction, with a curious mix of pop and specialty bands.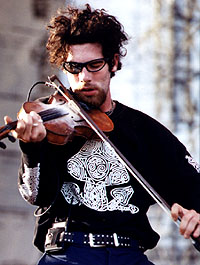 Sitting in the far bleachers to take refuge from the intense heat, I couldn't distinguish the stage crew from Ron Sexmith and his band. Somehow, the immobile acoustic guitar singer/songwriter thing didn't quite take hold in the bright sunshine and only drew polite applause.
A bit more enthusiasm greeted New Zealand's Mutton Birds, who had a very 60's Brit sound. "Put some more clothes on," the guitarist told the crowd at one point. "We just came from England and they're not as comfortable with their bodies as you are. It's distracting us!"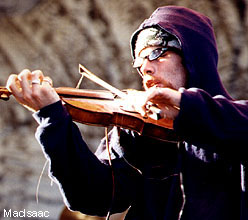 With the appearance of Change of Heart, you could easily tell the musicians apart from the crew: this band really moved! The first really powerful guitar sound of the day could be heard and the boys' unbridled exuberance had the sweaty crowd on its feet.
Moving right to the front for Los Lobos, I got my first really good look at the gothic stage decor with its churchy-lettered "Let the enemy not exist" scrawled across the top facing. Two drummers seemed extravagant, but when one of them got up and started to play guitar, I could see that Los Lobos have worked out a good dynamic. From blistering blues to accordion-based Mexican polkas, this veteran band had a cool showmanship that even the grunge-weaned teenagers against the stage couldn't resist.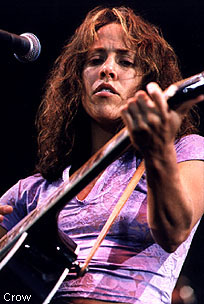 "We're going to do some country-style songs, we might get back to the rock stuff later on, we might not!" Wilco's frontman stated plainly. He wasn't kidding around. Nashville licks and Southern strummin' dominated their rather laidback set, though the vocals fit in nicely with the lazy late afternoon breeze.
Violins are like harmonicas: they sound exquisite for a little while and then they just become repetitive noise. Ashley MacIsaac is definitely congenial and a virtuoso on his instrument, but his fifteen-minute violin solo seemed to go on forever. Nice cover of "Stayin' Alive," though...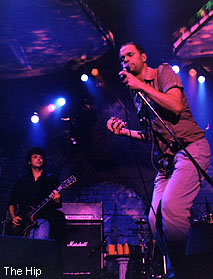 Being trapped in a group of swaying sticky bodies juiced on smuggled-in booze almost ruined Sheryl Crow's performance for me, but her self-effacing charm came through (even getting a shoe to the head didn't seem to hurt). In a lavender T-shirt and flashing a wide L.A. smile, she ran through the expected singles and was particularly effective on "Leaving Las Vegas."
The Hip, in the end, was the only act to really benefit from the lightshow, and they certainly looked like the big headlining band as they walked onstage with a classic red rock star glow. "Pretty damn good music, eh?" singer Gord Downie asked after a strident rendition of "700-Foot Ceiling." In response to the approving roar from the by-now 30,000-plus crowd, he said calmly, "I agree with you totally." Statements like that and his penchant for obtuse mutterings before (during and after!) songs make you either love his unchecked goofy style or think he's a pretentious nut. I never did make up my mind, but the songs were sure an adrenaline-soaked rush in the eerie darkness blanketing the football field.
---
First published in Drop-D Magazine on July 27, 1997
Index | Search | E-mail | Info | Copyright

Considering copying some of the images from this story?
Please read this first. Thanks.