Sonuvafreakin' Eh!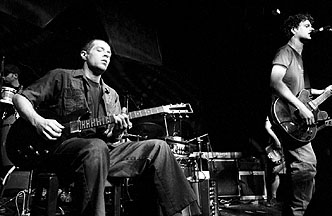 King Cobb Steelie
with Mrs. Torrance
Graceland
Vancouver, B.C.
Friday, July 18, 1997

Review by Darren Kerr
Photography by Eric Milner
---

Due to an extremely high count of justified profanity, the following review has been censored in the grand tradition of Slapshot, Fast Times at Ridgemont High, and, of course, that masterpiece of dubbing, Scarface.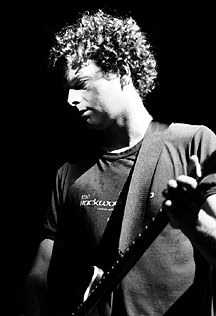 Okay, so I pay the cab driver five freakin' bucks to go three blocks. I'm running like it's Chariots of Anger if I miss the last Skytrain. I overflow with bile and contempt. Flip Graceland for putting the first band on at 11, flip B.C. Transit for not running until 2am, and flip me for missing the end of King Cobb Steelie's set.
Guelph Ontario's KCS are cultivators of the angular beat, which means I can't in good conscience describe them without using the following words: rhythmic, pulsating, percussive, tantalizing, hypnotic and funky. The opening song, the subtle "Highly Conductive," got people swaying, fully aware that they would be toeing the hard dance line, soon enough. The guitarist sat on a stool like Robert Fripp usually does, a zen-like expression of deep trance on his face as he played magic arpeggios, lap steel (on "The Power of Love"), and even some frenetic Eno-ish speed solos (think "Baby's On Fire").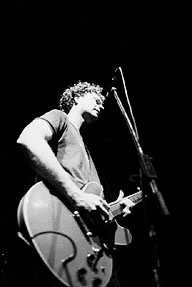 I've seen 'the Cobb' a few times, now, and, even when main man Kevin Byrne is approaching a state of instrumental bliss, he looks like he is suffering some kind of pain, grimacing like he's perplexed by some deep slide rule problem. Some lesser minds say his voice is the band's weak link, but I say that he has just the right blend of smooth chrome and serrated edge to perfectly complement the music. Who would they rather have singing -- Brad Roberts? I shudder to think. I was full of futile hope that Kinnie Starr would suddenly appear and bless "Starvo" with her husky tones, but when I heard the bounce of Kevin Lynn's incredible liquid bass entrance and Mike Armstrong's on-the-money percussion, all was forgiven.
Fueled by Armstrong and the drumming of Sam Cino, KCS can sustain a groove like few other mortals, and they proved this with the fierce renderings of "Swiss Crumb," "Rational," and the madly plucked instrumental "Pass the Golden Falcon." At this point I was horrified to find that it was 1:05. In ten minutes my chariot would be heading for my castle and if I missed it I would be one kissed-off king. I just bet they played a 15-minute "One's a Heifer" for the encore. Sonuvabiscuit.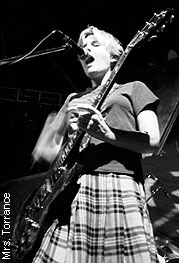 You couldn't have found a better opening act than Mrs. Torrance if you had picked one out of a catalogue. Led by singer/guitarist Tamara Williamson, the Toronto band created some beautiful dynamic music on this night. Williamson's voice is akin to Bjork's Sugarcube years or maybe the lovely lilting Enya. It soars above the instruments, looking for landing clearance, and then swoops down, usually crashing into waves of guitar. Williamson and other (and new) guitarist Carlos Gouveia have great chemistry and intuition: they seem to know exactly where the other one is and where they are going. The result is explosive interplay in "Rich, Beautiful and Mine" and "Bite Back." I must mention the effervescent harmonies of Williamson, Nixon and bassist Chris Waller, which were superb (awesome looking guitars as well). Lastly, Williamson looked positively yummy in her kilt.
I started getting really perturbed, though, at the fashion-fixated motherfakirs who, during the quiet bits, were yattering like trendy geese. One Hawaiian-shirted schmuck was even bouncing a superball off the front of the stage. Mrs. Torrance have a new album out, titled I'm the Bird, which captures their live experience faithfully. Minus the morons.
---
First published in Drop-D Magazine on August 9, 1997
Index | Search | E-mail | Info | Copyright

Considering copying some of the images from this story?
Please read this first. Thanks.