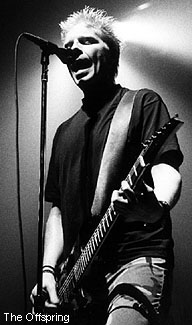 Hey, No Crawling on the Amps!
The Offspring
with Doughboys and gob
PNE Forum
Vancouver, B.C.
Friday, August 1, 1997

Review by Alphonse Leong
Photography by Rodney Gitzel
---

The charges that the Offspring sold out when they signed with Columbia to make their latest CD, Ixnay on the Hombre, seem a little harsh. If this night's performance was any indication, their tightly-executed and gutsy sound deserves the wide attention that only a major label can generate.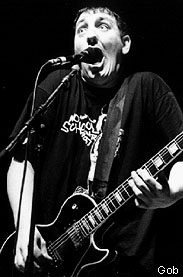 Of course, it's hard to sound good in the aircraft hangar-like environs of the PNE Forum, as opening band gob proved in their cacophonous set. Complete with burping and short, jackhammered songs, this band would probably appeal to me if I was still a pimply-faced fourteen-year-old kid. The audience seemed a little noncommittal, too, as they had to be asked to pogo. The singer did make a good statement about fighting racism and helping "our parents with their attitudes." And, as my guest reminded me, they are local. Mmm...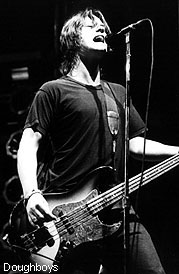 Frankly, I didn't know that the Doughboys were still around, but I guess these boys from Montreal have been quietly going about their business. They didn't speak much this evening, but they turned in a well-played set. Even under tough acoustical conditions, the guitars came out well and the vocals were amazingly sharp on "Shine." The singer had a penchant for walking around on the floor area in front of the stage -- hope he didn't step on any photographers' toes!
I know the lighting always gets better for the headlining act and I'm not usually awed by colourful displays, but the visual effects for the Offspring were nothing short of artistic. Right from the opening simulated gunshot flashes directed sinisterly at the audience to the synchronized patterns throughout the set, the lights were a big part of the show's punch.
Oh yeah, the band was good, too! Singer Dexter Holland can really belt it out, and you can tell the band's 80's hard rock origins from his high-ranging voice. Hard to believe that many consider the Offspring to be punk (or they used to), because the night's sound was sweet. Loud and aggressive to be sure (especially on a charged "Cool to Hate" and set opener "Bad Habit"), but very clean and calculated. Even on bellicose numbers like "Smash" and "Beheaded," there was never any sense of total abandonment. There was even a cute and loungy "intermission" where a girl and some of the crew walked around like they were ring-girls at a boxing match!
Holland must have an anarchic, self-immolating streak, though, as evidenced by the funniest show conclusion I've seen in a while. After the well-received encore, "Gone Away" (easily the best song of the night; just about everyone was singing "And it feels like heaven's so far away..."), he invited "everybody to come up" to do some stage-diving for the last song. Taking him at his word, the audience proceeded to methodically (and thoroughly!) fill the stage until the music stopped abruptly and Holland's voice emerged thickly from behind a wall of bodies: "Everybody get the fuck off the stage!"
---
First published in Drop-D Magazine on August 9, 1997
Index | Search | E-mail | Info | Copyright

Considering copying some of the images from this story?
Please read this first. Thanks.