A Call to the Faithful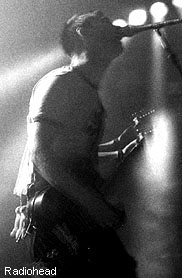 The 'Foohead' Show
with the Foo Fighters and Radiohead
The Rage
Vancouver, B.C.
Thursday, July 31, 1997

Review by Darren Kerr
Photography by Rodney Gitzel
---

This was the hot ticket in town, a special show to wrap up Capitol Records' week-long convention. Anybody who was anybody was there along with lots of people who were just happy to be there. [ed. Entry was by invite and contest-winning only -- so screw you if you were only, say, a fan of these bands.] The Beastie Boys were spotted, as was Sherilyn Fenn; resident politico-punk icon Joe Keithley walked around looking only a triffle out of place; and there was some guy who may or may not have been Keith Flint of the Prodigy. He had the hair, the accent and the girls -- yet a lot of us just weren't convinced.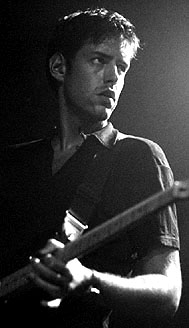 But enough of the hoi polloi. Thinking of the peripherals is taking me away from fawning over this show.
I don't think I have ever been as psyched about a show as I was seeing Radiohead. The sorrowful alien lullabies from their new CD, OK Computer,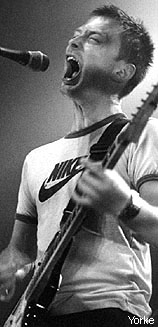 have been etched in my pleasure centre, becoming part of my vision, my psyche and my daily dreaming. Radiohead's set succeeded in making tangible all the glorious musical elements in my head. Thom Yorke proved once and for all why the vile bullets of trigger-happy critics will never pierce his forcefield: his vocals on "Street Spirit," "Lucky" and "Paranoid Android" were pure manna, lilting brilliance that made you happy to be alive. The multitasking Jonny Greenwood is an instrumental genius, the sounds of galaxies evolving oozing from his sizable pedal setup.
One thing that is evident upon seeing Radiohead live is just how much is going on in each song and... well, I'm really

failing here. How the hell am I supposed to explain all this beauty and splendor? It's like trying to transcribe a religious experience. "Exit Music" was so lovely that I felt wracked with emotion when Yorke sang the last eerie line, "We hope that you choke, that you choke." "Just" was enough to get me jumping in the air, both feet, straight up. Greenwood was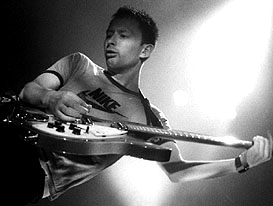 feeling the same way, because he was all over his domain, shaking hair and squeezing God from his guitar neck. Guitarist Ed O'Brien was stoned immaculate no matter whether he was playing perfect counterpart guitar lines or singing in tongues. As I stood transfixed, I realized that this was proof of intelligent life on other planets.
The Fighters of Foo were next, and they deserve every bit of attention they are getting both for their tragic pedigree (Dave Grohl and Nirvana, as well as Pat Smear and the Germs) and for their hook-laden power rock punk.
Nobody snaps their neck back from the mic like Grohl. He was crazed, pistoning up and down, staggering and lurching from back to front, ripping the shit out of his guitar strings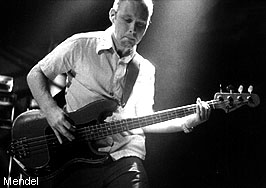 as well as his vocal chords. I mean, the man can scream. Guitarist Smear looked like a pattern-challenged Epstein from Welcome Back Kotter. Wearing green (I think) pants and sporting a new deep black puffy afro, he still exuded suave cool, staring out and smiling at the crowd like he knew something we didn't. Bassist Nate Mendel was in his own funky world, eyes closed, rocking back and forth totally immersed in the music, while drummer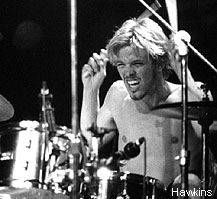 Taylor Hawkins beat his drums like they owed him money (a quote once used to describe Grohl's own battering technique, and not by me).
The crowd really got into it, too. One overly kinetic crowd surfer punched a security guard square in the head, and was rewarded with a backdrop over the barricades for his efforts. The only songs I recognized (read: remembered the names of) were "For All the Cows," "Monkey Wrench" and "This is a Call," which were all performed with industrial-strength brutality. The band left giving no encore, perhaps because they had nothing left to give, or perhaps because they felt that raw, gritty sturm und drang was no match for a religious experience.
---
First published in Drop-D Magazine on August 22, 1997
Index | Search | E-mail | Info | Copyright

Considering copying some of the images from this story?
Please read this first. Thanks.