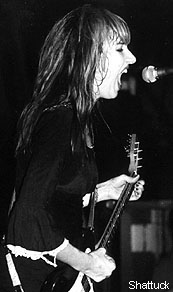 I Scream Better Than You!
The Muffs
with Chixdiggit and the Groovy Ghoulies
The Starfish Room
Vancouver, B.C.
Monday, August 11, 1997

Review by Gisele Grignet
Photography by Rodney Gitzel
---

So I got to the Starfish Room very early. 9pm. I know, very un-punk, but I also got the best perch in the house, right behind the sound man.

The show started at just past 10 with the Ramon.... I mean, the Groovy Ghoulies. Jokes aside, the band ripped into their first song and instantly filled the floor. The three boys were sporting eye masks, but Roach, the solid wall of guitar, chose not to hide. She did, however, have the coolest cat pants, (mental note: Roach is definitely someone to shop with).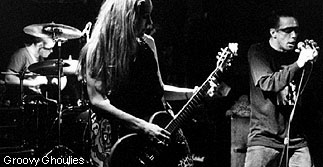 These masked avengers have studied their idols hard and barely took a breath between songs. They had some of the neatest toys on stage, too, lots of busted ghouls and stuff. They gave away goodies throughout the set, but I was too far away to see what it was or to get any. Bummer.
Next up, Chixdiggit, another band, like the Ghoulies, that's way better live than their CDs would ever let on. Wow! I had the wind knocked right out of me. When they finally set in for a break, lead singer K.J. showed off some of the loot the Ghoulies were throwing out: a sweatband for your wrist with a pick attached. Shit! I could really use one of those...
K.J. managed to thank absolutely everybody between songs and, halfway through their set, introduced their new drummer, Dave, an absolute maniac on the drums. This guy was so brutal, he'd stand and seemingly beat his cymbals. The band also had one of the best guitar sounds I've ever heard at the Starfish. And, very strange, K.J.'s head was never more than three feet off the ground. His feet were so far apart it was making my groin muscles sore.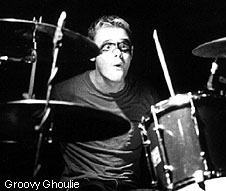 The Chix were proof that 'a good time with no attitude' = 'a great show.' (At one point they even invited guests up for a song: Ike from the Royal Grand Prix, Lisa from Cub, and Roach from the Groovy Ghoulies. Loads of fun.) They were so warm and fuzzy between songs and put on such a good show I was worried that the Muffs weren't going to be able to follow such an unbelievable set.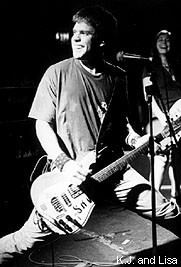 The Muffs, then, had a non-start. Kim Shattuck started bitching right off about the floor tom in her monitor, which was a total 180-degree turn from what we'd been spoiled with so far tonight. They finally started playing, but only one song into the set they went back to a sound check, then a hair in Kim's mouth had to be removed or she would barf. After another song a new crisis developed: some girl spit in her eye and Kim had to call her stupid and stuff. Then a guy and his girlfriend were, god forbid, dancing on one of the low stacks. Kim didn't like them or, in particular, the girl's knickers, which, she proclaimed, "look like diapers!"
Once through all this bullshit, however, the Muffs finally picked up the pace and had a string of about five songs that were more like what I was expecting from them. Tight, tough, kick-me-in-the-head punk rock. Kim finally did warm up, after confessing to being sensitive because she was on her period (too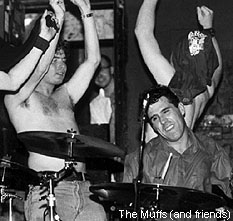 much information!). She went into the audience at one point and took pictures of herself with a young couple who were up front with their camera -- I bet they hope those turn out!
A huge serving of songs from Blonder and Blonder and Happy Birthday to Me had everybody bouncing. Much to everyone's delight, there was also a generous helping of Kim's unmistakable screaming. This woman wins the contest hands down. She knows it, too, proclaiming it to a girl in the audience who tried to scream into her mic. "I scream better than you," she tells the girl in midsong, after a long scream. "See?"
To be honest I was the teensiest bit disappointed, but only because I knew we weren't seeing the Muffs' best show. I still enjoyed it enough that I'll see them again.
---
First published in Drop-D Magazine on August 22, 1997
Index | Search | E-mail | Info | Copyright

Considering copying some of the images from this story?
Please read this first. Thanks.