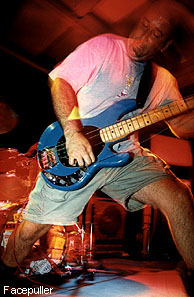 No-Frills Punk and Braineating Art
Hissy Fit
with Facepuller, the Probes, Jet Set and Adamtozoe
The Brickyard
Vancouver, B.C.
Friday, August 22, 1997

Review by Andrew Parker
Photography by Rodney Gitzel
---

Five punk bands for five lousy loonies! Not even rumours of the East Side mutating garbage creatures could keep away any self-esteeming punk rock fan. On this sticky late August evening, the Brickyard boasted a loose, 'laid back kind of shack' atmosphere. People seemed eager to run into friends over a pint or three, take in the bizarre artistry of I, Braineater on the walls and sincerely pay attention to the bands.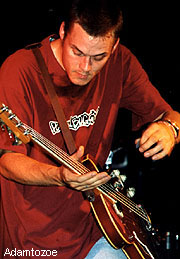 Always encouraging is the presence of a Montreal band on a bill, if only for having logged the miles to get here. Adamtozoe. One word -- three band members' names? Not sure where their handle came from, but one thing I'm decided on is that this quirky band's ska rendition of "Maggie's Farm" was the kookiest, most surreal take on Papa Dylan since the Staple Singers did "It Ain't Me Babe."
Next to take the stage were locals Jet Set, who appeared intent on plugging a guitar-driven buzz into every crack of the Brickyard's masonry. Nihilistic to the hilt, yet the music -- think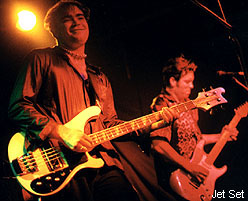 Supergrass, maybe -- was delivered with a flippant offhandedness that was proof they were having fun. "Next in Line," one of the songs announced amid the feedback, even allowed for a spontaneous guest vocalist who innocently growled, "I'm twenty years old and past my prime." Believe me, you should have been there...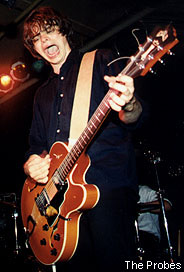 Far too stylish for destruction, yet intent on making an impression, the Probes were on third, tonight. Undoubtedly these retro explorers were the ambassadors of the boundary-blurring collision of punk with new wave. Not to mention a testament to what might be a potential new Vancouver movement: shiny suits, string ties, pointy shoes...
As for their sound, besides an occasional unmistakable resemblance to the hook-laden Super Friendz, these guys were quickly forgettable. Hats off to the diligence of the drummer, though, for his dedicated pounding helped to offset the mindless dreck the others were serving up. Merciless? Perhaps, but it appeared I wasn't the only person scanning the ceiling for an escape during the Probes set.
During a marathon set-break my partner and I quibbled over the paintings on the wall while some groovy Talking Heads classic washed over us. Facepuller were worth every second of the wait. Endearingly known as the city's loudest band, they did justice to this rap by blowing holes through the three-ply stuffed in my ears. The physicality of these guys was incredible. Looking more like a crazed institutional screw than the blue-suited pharmaceutical sales-rep that he is, bassist/vocalist Brent sawed his way through a series of short, savage songs. On an especially tasty offering,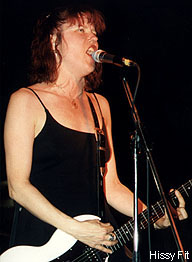 the guttural chant "SEX, MONEY, DRUGS, GUNS," became a near poetic mantra. The audience was not the only thing manipulated by Facepuller, as changing broken bass strings mid-song became child's play for a band that obviously reveled in the crowd's raucous appreciation.
Our final port of call on this punk cruise was Hissy Fit, who easily kept the decibel level up on Carrall street. With raspy, pack-a-day vocals, the singer made Courtney Love sound like Diana Krall. Sneering effortlessly, launching spittle onto those in the back rows, she sounded almost frightening on a ripping cover of "I Never Promised You a Rose Garden."
When I finally decided to head out and brave the human zoo commonly known as the Hastings #14 bus, I left with the ringing satisfaction that only a four-hour punk onslaught can produce.
---
First published in Drop-D Magazine on September 19, 1997
Index | Search | E-mail | Info | Copyright

Considering copying some of the images from this story?
Please read this first. Thanks.