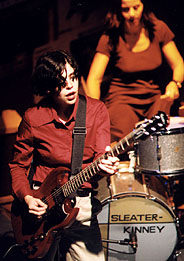 An Afternoon at the Improv - NOT!
Sleater-Kinney
with the Evaporators and the Lookers
The Web Café
Vancouver, B.C.
Sunday, September 21, 1997

Review by Darren Kerr
Photography by Rodney Gitzel
---

The decor of the Web Café is upscale condemned. The chairs are trendy steel backbreakers which you wouldn't want to be smacked with, and the walls have painted-on rivets. The stage in the corner is tailor-made for two things: string quartets and stand-up comedians. This wasn't an evening at the improv, however; this was the highly anticipated (all-ages) arrival of Sleater-Kinney, the newest abrasive media darlings, taking the universe by storm with their new album, Dig Me Out.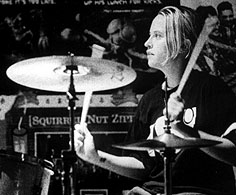 But first we had to witness the earnest but misguided fumblings of the Lookers, from Portland, who played twee pop with plenty of broken jingle jangle, two guitarists and a drummer who played rings around her band. The problem was that there was no bottom end, just tight, tinny treble rhythm chords punctured by noodling guitar lines trying to pass themselves off as bass notes. The vocals alternated between folk monotone and K Records-ish pop monotone. I didn't like them at all, but quite a few people in the crowd were nodding in approval.
During the changeover a wonderful thing happened: the arrival of beer! Now I was ready to be evaporated -- by the Evaporators, led by the enigmatic and slightly insane Nardwuar the Human Serviette, wearing freaky green and white pants with nehru jacket to match.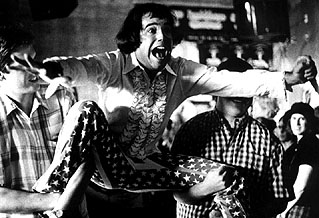 You can't go to an Evaporators' show and expect just to watch Nardwuar go off, because chances are he's going to watch you, scream in your face, jump on your chair, dance on your table or invite you up on stage to participate. And so it was this afternoon.
The garage rock vaudeville began with a cool organ-driven instrumental during which Nardwuar coaxed the crowd to get low to the ground and then jump in the air, à la "Rock Lobster" at my junior high dances. "Mercury outboards have plastic propellers" was a manic mantra before it became a full blown song as Nardwuar repeated it over and over while checking the sound levels.
The band then did an all-out punk tune that I think is called "I've Got a Rash," which was done with so much force that I think Narwuar just might've, um, had a rash. He brought up a few able volunteers to play two-fisted organ for "United Empire Loyalists," and they had to hammer keys in time with his stiff arm zombie robot moves. During "I Knew A Girl," Nardwuar was hoisted aloft by two guys after he jumped on one of their shoulders.
But what I'm gonna leave you with are the words that his high school bullies (who he listed by name) forced him to say way back when: "Wo-o-o-o-of, I'm a go-o-o-o-of." How he had us happily chanting along with him, I don't know...
Finally taking to the tiny stage, Portland's Sleater-Kinney did not disappoint. They were everything that the generic indie pop candy store of flimsy dream catchers and caustic spleen venters aspire to become. They play forceful, aggressive pop music with pop aesthetics that combine percolating layers of guitar notes and chords with very rhythmic drumming and powerful pristine vocals.
Someone must have slighted vocalists/guitarists Corin Tucker and Carrie Brownstein and drummer Janet Weiss, for you get the feeling that Sleater-Kinney's existence is a revenge fantasy against those who say things like, "You play pretty good for a girl." This afternoon's set said, "We are the real deal. We're mighty talented and we are mighty relevant."
The stage presence of the band is certainly fully defined. Tucker is riveting to watch as she puts everything she has into her impassioned vocals. Brownstein pogos, struts, and even does a funky duck walk while churning out intricate guitar structures which are somewhat Sonic Youth or Babe the Blue Ox-like.
The crowd loved Sleater-Kinney and so did I. It takes as many words to describe the Evaporators as it does good nerves to follow them; however, I can describe Sleater-Kinney by simply saying 'kinetic-intense-talented-gone.' Don't miss them next time they cross the border.
---
First published in Drop-D Magazine on September 27, 1997
Index | Search | E-mail | Info | Copyright

Considering copying some of the images from this story?
Please read this first. Thanks.