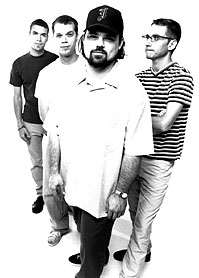 Ain't That a Shame
Drummer Regan Hagar of Brad
Interview by Kevin Templeton
---

45-second excerpt from "Lift" (various formats)


Brad is a band, sort of. More appropriately, Brad is a Seattle-based project made up of four musicians who are in lots of other bands, including Satchel (Shawn Smith, vocals and piano, and Regan Hagar, drums) and Pearl Jam (Stone Gossard, guitar). Solo artist Jeremy Toback (bass and vocals) rounds out the quartet.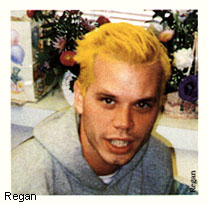 With that out of the way, it should be noted that Brad is also a guy, a particularly sleazy guy who tried to cash in big-time when the band Shame came calling, wanting to officially use the name of this guy's long-defunct group, also called Shame. Perturbed and unwilling to take Brad-the-guy's bait, Shame used "Shame" to title their debut CD instead, and one-upped the shyster in the process by naming the band after him, namely "Brad."
Enough already. Regan Hagar, he also of Loosegroove Records (along with Gossard) and Malfunkshun (Andy and Kevin Wood's seminal 80's band) fame is on the phone from the Emerald City, where he's holed up in the studio "...just doin' some demo ideas, we're not officially recording," he begins. "It's Shawn and myself and Mike Berg [Satchel bassist and Brad fill-in while Toback's off touring on his own]. It could end up, I guess, for either Satchel or Brad."
What's the story on the Brad gig this past July 5th in Bellingham, advertised on 92.9FM as Brad's first ever live show? "It was fun. We weren't planning to do that show, it was like a warm-up thing. Our first official date was two days after that in Salt Lake City. We thought it would be a great opportunity to have it be an evening with Shawn Smith, where we play Brad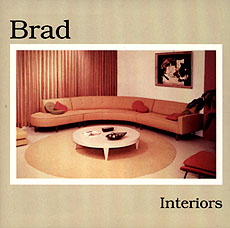 and Satchel [material], which was a real treat for all of us. The sets we're playing are almost 50-50, and people seem to respond well to it."
Like Shame, Brad's latest offering, Interiors, transcends conventional album rock with warm piano ballads ("Some Never Come Home"), Stooges-cum-Pearl Jam romps ("Lift," "Secret Girl") and improvisation galore. And, while vocalist Smith's falsetto-ized journey into song and emotion may not be for everyone, Interior's ace-in-the-hole is definitely "Circle & Line," Toback's soulful vocal contribution. "You should check out his record [Perfect Flux Thing]," recommends Hagar. "His band is very different from Brad, but it's similar to 'Circle & Line.'"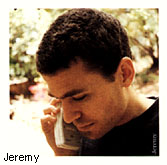 Toback is not alone in his diversity. "Shawn also has Pigeonhed [an electronic noodling project with Steve Fisk] that has two records out on Sub Pop, and then he's got a project called Lovelace that's just him -- he plays everything," Hagar explains. "He also just did a record with Greg Dulli [of Afghan Whigs, whom Shawn's toured with in the past] that they're calling Twilight Singers. Mike Berg and myself have a side band called Meth Lab that's more of a hard rock thing. We'll probably be doing that in the future, too."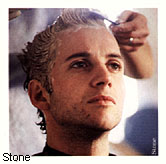 Despite these ongoing commitments and distractions that seek to disenchant Brad from continuing on, Hagar remains carefully optimistic about the group's future. "I know that we all really enjoy doing it, and we've made a conscious decision to treat it more like a band, y'know, through touring," he says. "Hopefully they [Brad albums] will be coming out on a regular basis. I mean, we're definitely gonna do it for as long as we're allowed to do it."
There you have it. Check out Interiors if you're into passionate, eclectic music, à la Afghan Whigs, Pearl Jam, or even the late Jeff Buckley... and see what your day brings.

Brad are scheduled to play the Starfish Room, along with Headswim, on Wednesday, October 29th. If the border guards allow them to...
---
First published in Drop-D Magazine on October 3, 1997
Index | Search | E-mail | Info | Copyright

Considering copying some of the images from this story?
Please read this first. Thanks.