Don't You Forget About Me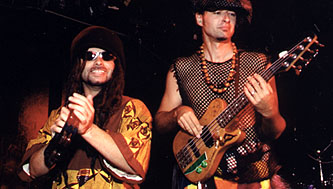 Dread Zeppelin
with New Wave-aoke!
The Starfish Room
Vancouver, B.C.
Friday, August 22, 1997

Review by Kevin Templeton
Photography by Todd Duncan
---

As we waltzed our way into the Starfish Room on this gorgeous summer evening, it became apparent that little more than a chosen dozen had arrived in decent time to check out New Wave-aoke!, the latest of the well-choreographed and live-playing karaoke bands from Vancouver's own LIVE-AOKE Productions. With Punk-aoke! also making the rounds, and a country-western version an ambitious possibility for the future, it's easy to reckon that a lot of time, effort and money has been invested in said products. Which begs the question, "Is it all worth it?"

Initially, I'd have to say "yes." Featuring a line-up of members from local bands like the Matthew Good Band and the brooding DSK, New Wave-aoke! danced their way through a cool 38-song menu of keyboard-laden, skinny-tie-wearin' tracks made popular on video shows from days past. The crowd started to grow in numbers and enthusiasm as we were treated to nifty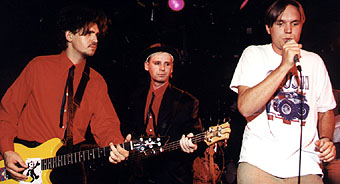 gems like Bow Wow Wow's "I Want Candy" and, of course, Devo's "Whip It." Had we been at the Cambie beforehand, I probably would've fulfilled my nagging desire to front the band for the Cars' "Let's Go" or the Vapors' "Turning Japanese," but the introvert in me prevailed (go figure). Ideal for birthdays, stags, or just drunken nights on the town, New Wave-aoke! is business-savvy entertainment -- no more, no less.
It seems like yesterday that a bunch of friends and I caught Dread Zeppelin at 86 St. during the height of the band's popularity, in support of their stylin' first album, 1990's Un-Led-Ed. 1600 shows (so they claim) and a few weird career phases later, the band returned to our fine garbage-strewn jungle to re-introduce themselves and their classic "Zeppelin Music Inna Reggae Style" trip (or, their "Pop Tart Tour," as they're calling it). Hallelujah!
Suave and hungry to jam, 4 of the 5 Dread characters took to the stage to much adulation from their loyal audience, but it wasn't until the sizeable and glimmering Tortelvis graced the Starfish stage that the crowd truly turned their attention to the coolest schtick band around (or "a round," in Tort's case). Opening with a hilarious and rasta-fried version of "Immigrant Song" that led into Un-Led-Ed's opening cut, "Black Dog" (featuring a "Hound Dog" interlude), Dread Zep had clearly returned to their form, though sans Ed Zeppelin (rasta mon) and Charlie Haj (the man who hands Tortelvis his water and towels on stage, and who is apparently rebounding from troublesome "testicular lesions" -- ouch!).
The best part of a Dread Zeppelin show is how the members of the band constantly remain "in character" despite audience chastising and frequent in-band arguments. They also invite the audience to participate throughout, be it taking questions from the people up front or Tortelvis inviting certain female fans backstage (That is, if he could find the backstage. He kept exiting in mock confusion into the stage-side wall, with only Charlie to save his sequined ass.).
Dread Zep are also unbelievably tight live, especially Jah Paul Jo (I believe), the blonde, solo-happy guitarist who plays wickedly in his underwear -- and even occasionally playing solos backstage while Tortelvis pretends to be the masturbatory source. Too bad Charlie didn't reveal that Tort's guitar was unplugged! "Heartbreaker" and "Stairway to Heaven" kept the crowd singing and dancing mid-set, while Sinatra's "My Way" finished the night off, with the band minus its frontman by song's end.
Tortelvis had, presumably, left the building.
---
First published in Drop-D Magazine on October 3, 1997
Index | Search | E-mail | Info | Copyright

Considering copying some of the images from this story?
Please read this first. Thanks.