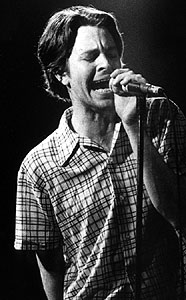 Invaders from Oz
Powderfinger
with Jack Tripper and Blisterine
Starfish Room
Vancouver, B.C.
Friday, September 19, 1997

Review by Alphonse Leong
Photography by Rodney Gitzel
---

Wow, there's a real Aussie invasion going on! Like their compatriots Spiderbait did a few months ago, Powderfinger pulled in a big, boisterous crowd to the Starfish -- a crowd that included energetic, sun-tanned Aussie natives making their presence felt (literally!).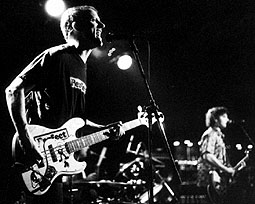 But first Blisterine came onstage as a game last-minute replacement for Veal. An affable bunch, they didn't try to be too cute and just peeled off tasty guitar-rockin' numbers (including a strangely muted cover of "Can't Explain"). And if you're to believe the guitarist, the band sold some t-shirts to members of Powderfinger!
Jack Tripper is a band that is determined to play their slow, mind-numbing songs, no matter what the mood of the audience. I suppose you could call it artistic integrity, and there were some in the crowd that liked the indulgent Pink Floydish sonic meanderings. (The two quirkily demonstrative dancers who had the floor to themselves seemed totally enthralled!) One song,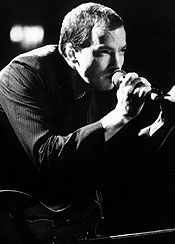 "Broadcast Nationwide," had some nice "ooh, ooh" harmonies that echoed the chorus of "Feed the World." Still, they should save this stuff as the last six songs on, say, their fourth CD, so you can listen to it with headphones on late at night and just zone out.
There is an appealing Aussie sound of late and Powderfinger has it: thick, warm guitars and wafting, nasally vocals that stick to your ribs. Frontman Bernard Fanning flashed a mischievous Hugh Grant-like grin all night long but didn't speak much (and what he did say was encrypted in a heavy down-under accent). No, he and the band had come to play music and they took the audience on a ride right from the get-go.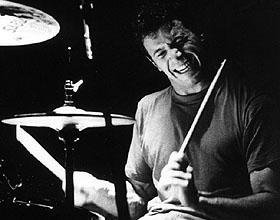 The snarling guitar chords and the menancing opening line ("Jesus Christ, what name do you go by now!") of "jc" drew hearty cheers, but an attempt at bodysurfing only caused a guy to stand on his head for a few seconds! Great tremolo guitar effects led into the riveting "Boing Boing" -- talk about taking a sixties' sound and making it seem new! Guitarists Ian Haug and Darren Middleton wielded their Les Pauls as well as any of the seminal axe-noodlers of the hippie era, but they weren't living totally in the past, and they laid down state-of-the-art riffs on songs like the spacey "Turtle's Head."
Fanning's rough voice soared through the registers and brought life to each song. Their single, "Pick You Up," which sounds kind of sappy on disc, packed more of a wallop live, and even a choppy cover of the Police's "Can't Stand Losin' You" had a pleasing hard edge. Powderfinger is definitely a band with a mastery of loud, driving music, yet they are somewhat kinder and gentler than their fellow Aussies, Spiderbait -- they didn't swear at the audience!
---
First published in Drop-D Magazine on October 3, 1997
Index | Search | E-mail | Info | Copyright

Considering copying some of the images from this story?
Please read this first. Thanks.