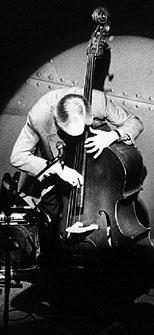 Bass-ic Performance
The Dave Young Trio
The Web Café
Vancouver, B.C.
Wednesday, October 8, 1997

Review by Pieter Hofmann
Photography by Rodney Gitzel
---

For most of his career, Dave Young has rarely seen his share of public accolades. As deserving as he may be, considering his instrument of choice, it isn't exactly surprising. The bass, be it in rock, jazz or contemporary pop, has rarely held the spotlight.

A native of Winnipeg, Young joined guitar legend Lenny Breau's quartet in 1961 for a half decade, and he has been busy ever since. In the post-Breau era, Young has recorded and been captured on vinyl numerous for outfits, fronted by such jazz greats as Clark Terry, Zoot Sims, Moe Koffman, Nat Adderley and Oscar Peterson.

In 1995, Young started calling in a few favours and assembled a seminal cast of pianists to record in duo settings on a string of albums. Joining Young on this exemplary Two By Two series have been the likes of Oscar Peterson, Mulgrew Miller, Tommy Flanagan and Vancouver native Renee Rosnes, to name a few.

And so there was a sense of anticipation preceding this show at the Web Cafe. The trio of Young, guitarist Reg Schwager and drummer Michel Lambert ambled onto the small stage and opened the set with the Stanley Clarke composition "Why Wait?", intentionally starting off busy to allow each member a share of the spotlight.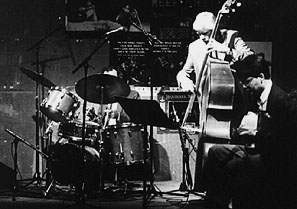 On the opening salvo, Lambert played over Young and Schwager. Lambert's percussion, for the most part, had a heavy-handed feel on the up-tempo selections, and the drums had little, if any, relaxed feel when the band decided to swing. But, at the other end of the spectrum, Lambert was in perfect synchronicity when the trio explored ballads. His strength lay in subtle ornamentation and unobtrusive fills that add a group's signature to someone else's piece. Lambert's brush work was particularly appealing on Jobim's "Zedgaro," and his odd and unexpected cymbal work was a definite asset.
Guitarist Reg Schwager, while never adventurous, meanwhile provided tasteful rhythm and the occasional lead to the trio's set. Schwager's clean, fluid lines never intimidated the songs but simply embraced the melodies and softened the edges.
Looking more like a high school principal or university professor in his light grey suit, the lanky Dave Young led the trio with disarming charm. Fairly quiet on stage, Young let his fingers do the talking. Other than the odd quip and brief song introduction, Young concentrated on his playing.
Exploring the whole register of his well-worn acoustic bass, Young's agile hands worked the strings with power. Putting aside a softer tone that is present on the Two By Two series, Young was more down to brass tacks at this show.
The trio's repertoire was evidence of where Young wants his band to go: mostly swing with a handful of ballads thrown in. Young left subtlety back at the hotel for a frank and extroverted set, which was a shame, as he is at his best when he plays with a warm tone. Addressing ballads such as Billy Strayhorn's "Chelsea Bridge" (where he used the bow to fine effect) or the evening's highlight, Cedar Walton's "Bolivia," he proved that often less is more. When Young and the trio swung they swung too hard, adding little to the original composition's structure.
While the Dave Young Trio are obviously all capable musicians, a certain lack of focus was evident throughout the concert. And, armed with the knowledge of Dave Young's previous work, the show only hinted at what this trio is capable of.
---
First published in Drop-D Magazine on October 24, 1997
Index | Search | E-mail | Info | Copyright

Considering copying some of the images from this story?
Please read this first. Thanks.