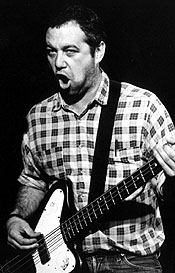 The Night of the Thunder Stick
Mike Watt and the Black Gang Crew
with Mr. Wrong and the Primrods
The Starfish Room
Vancouver, B.C.
Saturday, October 11, 1997

Review by Dorothy Parvaz
Photography by Rodney Gitzel
---

The problem with the Starfish Room is that it has a reputation for being a place where the cooler-than-thou kids go to catch alternative music. Alternative to what, no one knows, but there you have it. The venue has that unfortunate knack for attracting a pretentious, jaded crowd.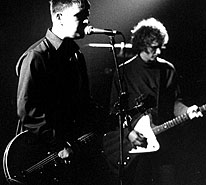 The audience was predictably thin but somewhat attentive anyway when Calgary's Primrods took the stage. You know it's going to be a rough set when the drummer is yawning ferociously while the rest of the band is half-heartedly setting up their equipment. They did alright though, those boys. They have that dreamy-rock sound, and, as you listen to them, a dozen or so other bands pop into mind, like, say, Sebadoh. They're guitar-driven (two guitars plus bass), and when you can make them out (lead vocalist Alan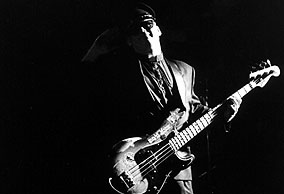 Irving has that endearing rock-star mush-mouth way of delivering lyrics), their lyrics are quite touching. Heck, midway though their set, drummer Jeremey Johnson even perked up a bit, so not all was lost.
There was a buzz that Faith No More -- still in town after their show at the Rage the previous night -- might show up and even perform with Mr. Wrong, the bass-end for Victoria legends Nomeansno. Apparently, FNM are big Nomeansno fans, but, alas, they didn't show.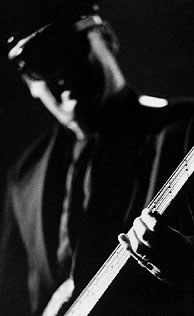 Mr. Wrong took the stage solo, as usual, dressed in a priest's outfit topped with a cop hat. One big authority fuck. By this point, the floor was packed with love for this guy. With an "I'm Mr. Wrong, and here's my song," Mr. Wrong tore into an impressive set. Question: How long can a guy with a bass guitar and scratchy voice keep a crowd going? Answer: If he's Mr. Wrong, as long as he bloody well wants to.
The man, his bass and that growling voice were a complete trio. You'll get no lead guitars, no drums, no keyboards, and dammit, you'll like it. Years of experience really showed in the way Mr. Wrong connected with the audience -- even the been-there-done-that hipsters got sucked right in for the ride.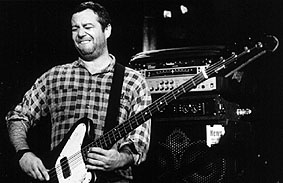 It's Mr. Wrong's spoken-word delivery of lines like "You're either the fucker or the fuckee -- its a harsh job, no matter what you do," that lets you know he'll be taking no bullshit from you tonight. At the same time, you feel like he's letting you in on a secret. A cross between Lupo the Butcher and PJ Harvey (if she were a stocky guy), Mr. Wrong whipped the crowd into a bass-head frenzy in preparation for the mighty Mike Watt.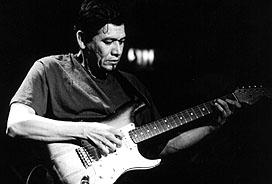 Bassist Mike Watt is an unlikely Johnny Cash, but there you have it. His flair for story telling and that twang in his voice have that certain country sound, and every now and then drummer Stephen Hodges and guitarist Joe Baiza would bust out into a spaghetti western-type of jangle.
But when you're dealing with a concept album (or concert) as intimate and complex as Watt's brand-new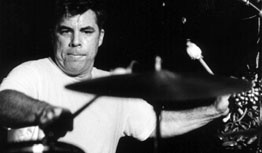 Contemplating the Engine Room, the songs aren't always accessible to the masses. Lyrically, former Minutemen Watt is almost Elvis Costello-esque (read: prolific). Songs about his father's life as a Navy man are touching ("Two streams, one dream intertwined in between/ Bending, blending, never ending/ Gonna love this girl the rest of my life/ Gonna make her my navy wife"), but aren't the stuff of contemporary pop culture.
Watt delivered the unexpected, and there the audience stood, wildly appreciative, knowing this stuff was good, but not entirely sure of what to make of it. Or, if they did, they did a good job of hiding it.
---
First published in Drop-D Magazine on October 24, 1997
Index | Search | E-mail | Info | Copyright

Considering copying some of the images from this story?
Please read this first. Thanks.