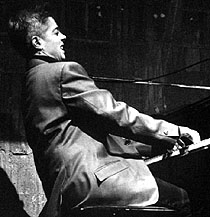 Muy Bueno, Muy Bueno
Marilyn Lerner Sextet
The Web Cafe
Vancouver, B.C.
Sunday, October 5, 1997

Review by Andrew Parker
Photography by Rodney Gitzel
---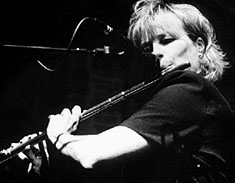 These days just about anything remotely associated with Cuba is chic, de rigueur, hot, the rage and all the rest of it. Perhaps the public fascination with Castro's fiefdom is most obvious in mainstream culture: whether through the resurrections of cigar-smoking by the self-indulgent lounge set, a proliferation of cafés bearing Cuban/Spanish names, or the buying habits of adolescents wearing shirts using Che Guevara to advertise rock bands, each phenomenon remarks how saleable 'Cubana' has become.

While a few people in the Web Cafe on October 5th may have drifted in due to pangs of Cuba mania, the performance by Marilyn Lerner and her Sextet was risky rather than trendy -- experimental not formulaic. Lerner, known for her brilliant compositions and daring improvisations in frequent past visits to Vancouver, was surrounded this time by a trio of cracklingly hot Cuban players.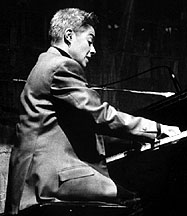 Also on stage was the ever demure, sexy, and explosively talented Jane Bunnett, whose invitation for Lerner to join her in Cuba last January proved to be the catalyst for this tour. As the Coastal Jazz and Blues Society jockey put it, this show was a savory opportunity to see/hear two of the leading women in the world of jazz. The fact of them both being Canadian and their decisions to explore collaborations with Cuban musicians made the evening an even more unique treat.
Musically the band's first set commenced somewhat haphazardly, with "Solomon" allowing each player a chance to warm-up gingerly and slowly begin to integrate and harmonize. Coloured by a drifting melody, the composition allowed percussion maestro Juan Oliva Sanchez (affectionately called Long John) to do a session of show and tell with his infinite collection of drumming toys. Over the next three hours the audience was repeatedly thrilled as Long John pounded, stroked, and shook out his personal blend of Cuban syncopation.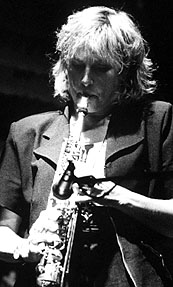 Appearing relaxed and almost motherly with admiration for her stagemates, Jane Bunnett seized her first solo with wild intensity, nearly separating the fibres in her sax reed. Seeing Bunnett for the fifth time, now, I was still impressed by her ability to play both subtly with quiet fire and impulsively in muscular bursts. Perched uncomfortably on a Web Cafe utilitarian stool, my pain left me momentarily and I floated into the final strains of Bunnett's testimonial solo ending amidst a dusting from Long John's rainstick.
Another memorable piece was the buoyant "Not to Startle the Strangers Away," with which the players created a whirling, hypnotic middle eastern feel. Explained by Lerner to be an ode to a 90-year-old female photographer whose work she admires, the composition extraordinarily evoked the unfolding emotional history of an artistic life. Lerner's solos played out both the uninhibited celebrations of youth and the mournful betrayals of aging. Without fanfare, Lerner's expertise in integrating the genres of jazz, classical and experimental music into her playing gave her achievement a mesmerizing intensity.
On bass was the clever Kieran Overs (another Canadian), and behind the kit a young, baby faced Cuban, Dafnis Prieto, whose playing was solid and complementary to the gorgeous tones of Overs. I had only previously seen Overs as a bandleader, and I kept waiting to hear his trademark vibratto-edged solos. Only playing a sideman role on this evening, Overs still indelibly etched his multi-hued bass work on the music, fretfully laying down a substantial foundation of rhythm.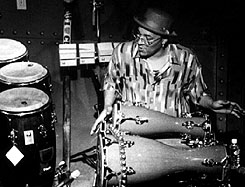 Following a lengthy set-break where it seemed everyone in the joint -- including the musicians -- was spiritedly downing drinks, the group began their second set with two guest Cubans. With the total of Latin musicians now at five, the music galloped into a frenzied mambo festival. The influence of Castro's 'one conga per person policy' was evidenced and the fusion of art with politics was alive. With drums of all sizes a-blazing , Lerner fearlessly lept into the drum dervish, adding an inventive, harmonically-challenging piano line to the percussion. Bunnett, accustomed to these spontaneous outbursts, cracked, "I feel like I'm back in Cuba," then raised her flute and played catch-up with a breathtaking solo of her own. Sitting amidst this torrent of sound, I thought of how the fusions of African rhythms and Latin melodies produced Cuban music -- a sound that often feels frightening yet exhilarating. It's as if you dangle on the verge of insanity --then you retreat from the brink and are calmly lifted back to safety. Mentally unusual music...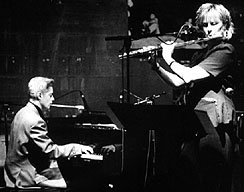 For the finale, Lerner chose the title cut from her new CD Birds are Returning, a portrait of a long awaited spring thaw in Winnipeg. Sax player Yosvanny Terry appeared to finally do some melting of his own on this number, throwing caution to the wind in favour of a focused, cumulatively-flowering solo. Heavy on a repeating Cuban beat, the music was compelling and swinging. On the keys, Lerner demonstrated the range of her power, dynamically blending 20s/30s big band licks with curvy Latin grooves.
When the sextet finally called it quits around midnight, I momentarily felt disappointed, but the bulk of me was relieved. The virtuosity and experimentation of the music had left me pleasingly exhausted, and, heading home, I grinned uncontrollably with my own fix of personal Cubana.
---
First published in Drop-D Magazine on November 9, 1997
Index | Search | E-mail | Info | Copyright

Considering copying some of the images from this story?
Please read this first. Thanks.