One Welcome Roach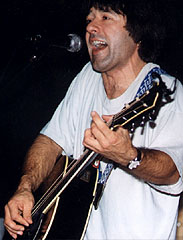 Roach
with Hemant Rao
The Railway Club
Vancouver, B.C.
Thursday, October 30, 1997

Review by Darren Kerr
Photography by Rodney Gitzel
---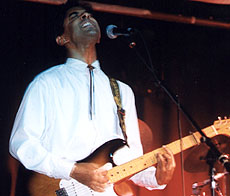 There was a smattering of people in the comfy Railway Club when I arrived for Hemant Rao's set. Rao was already on stage, leading his band through some safe, competent bop that was more stiff shirt than Stiff Records. Exquisite bass lines and galloping drum fills tried hard to elevate the songs past the filler category, but ultimately all the tunes were so similar that they ended up going right by me, leaving no lasting impression (my companion said they sounded like a Knack for the 90's). This was certainly through no fault of the musicianship, which was tight. I've said it time and time again that bands like this have to take risks with their sound and the songwriting.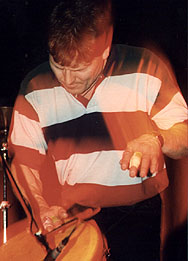 Roach was a different bug altogether. Ron Roach is a little guy with a big talent for melody. He has a captivating voice, and can pull off a great falsetto and a reggae-fied croon worthy of Joe Jackson. He also rocked like a happy moppet, and alternated regularly between acoustic guitar (both distorted and deliciously phased) and electric. There's something really cool about seeing someone hit the big bad effects pedal when they're going for it on acoustic guitar.
I've always like the djembe in a rock 'n roll format (Zolty Cracker's power folk always comes to mind), as it always seems to make the music more earthy and real. Roach's rather active djembe player was also smacking cymbals with his hands, and he continually knocked over the cymbal stands, making anyone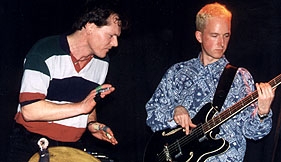 close by into a drum roadie. Again, the bass player (the same one for Hemant Rao?) was stellar throughout; whether he was doing chordal interplay or high extended runs, he never failed to give the pulse a melody.
The band took us through two sets of clever, hooky pop, and played pretty much everything from their self-titled album of last year. My favourite track, "Nightmare Sessions," was particularly powerful, as was "Long Live Pop." The crowd really enjoyed the band, too, especially one liquored-up sailor-looking guy who toasted the band loudly after almost every song. Catch them at our Christmas charity benefit...
---
First published in Drop-D Magazine on November 22, 1997
Index | Search | E-mail | Info | Copyright

Considering copying some of the images from this story?
Please read this first. Thanks.