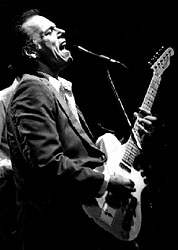 Play Good and Play Hard
John Hiatt
with Sherri Jackson
The Rage
Vancouver, B.C.
Saturday, December 6, 1997

Review by Gary 'Pigboy' Swartz
Photography by Jeff Hornby
---

"Ladies and gentlemen, please give a warm Tokyo welcome to John Hiatt!" Whoops! Wrong city. Wrong year. But the right artist. Definitely the right artist.

I first saw John Hiatt in Tokyo, not long after the release of his 1987 break-through album, Bring the Family. At the time I was seeing two or three shows a week. A lot of the artists and/or bands I was seeing, all with major label releases and reasonable airplay, have returned to the obscurity they so richly deserved. (For the good reasons why, think of all the bad shows you've seen by bands that think one hit equals 'established.') About two songs into Hiatt's set I knew I'd be hearing from and seeing this guy for years and years to come.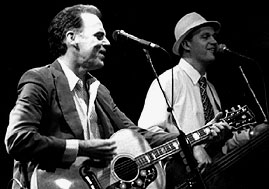 Hiatt comes to entertain. To sing and play with passion and to give his audience their money's worth. He is fortunate enough to be able to underpin that desire with self-penned material written in the same vein, the kind of material that grows with each listening. This show was no exception. The man came to perform in overdrive, and I had the strong feeling it was for an audience that had been there before. And loved it. Yeah, he isn't everyone's micro-brew, but I suspect he seldom loses a fan.
For that growing legion he opened the show with "Alone in the Dark," accompanied only by his acoustic guitar. One of the strengths of Hiatt's material is that it can be just as compelling stripped down to basics as it is given the full-blown treatment -- not only by Hiatt, but the dozens of others who have chosen to cover his songs. Then the Nashville Queens -- oddly enough all three musicians list California as their home state -- joined Hiatt for "Drive South" and stayed on stage for the remainder of the show.
As with the other bands that have accompanied him in recent years, like the Guilty Dogs and the Goners, the Nashville Queens seem to relish their role as Hiatt sidemen. Playing good and playing hard are the main requirements. And despite the C&W heritage implicit in the name, the arrangements and overall performance seemed a lot more R&R rooted than I remember from past shows, with less reliance on slide guitar. Either way works good.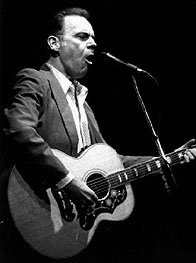 The selection of songs was a well-balanced mix of material from Hiatt's current album, Little Head, and more familiar selections from earlier albums. Among the latter were "Memphis in the Meantime," "Icy Blue Heart," "Perfectly Good Guitar," "Cry Love," "Have a Little Faith in Me" (during which those at the show accompanied by lovers, significant others and similar emotional bond mates moved a little closer together, all the better to exchange meaningful glances and a bit of lip wrestling), "Thing Called Love" and "Slow Turning." Among the newer songs, "Sure Pinnochio" proved representative of lyricist Hiatt at his wittiest -- it's hard to imagine a more elegant way to imply that someone is a lying whatever -- and to my mind is the kind of songwriting that keeps fans tuned in for more Hiatt.
To opening act Sherri Jackson, my most profound apologies. Thanks to the Great SkyTrain Fire of '97, I arrived late for her set and caught only the last song and a half, but I did walk into a room full of people that seemed to be enjoying themselves. I have subsequently heard two cuts from her album on 92.9 FM, the world's greatest radio station, and now believe that I did both Sherri and myself (not to mention you, dear reader) a disservice. Since she apparently hails from Washington State, she hopefully won't be a stranger to our fair city and we'll get a chance to make good at some future date. Like Hiatt, I have a feeling that she could just be another survivor.
---
First published in Drop-D Magazine on January 25, 1998
Index | Search | E-mail | Info | Copyright

Considering copying some of the images from this story?
Please read this first. Thanks.