Winners By More Than a Nose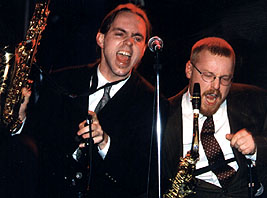 CiTR Shindig '97 Finals
with the Salteens, the Hounds of Buskerville and Verona
The Starfish Room
Vancouver, B.C.
Friday, December 19, 1997

Review by Alphonse Leong
Photography by Rodney Gitzel
---

This year's CiTR-presented band competition was pretty heavy duty, with NXNE and Music West showcase slots and a Universal Concerts opening gig going to the winner, and fuzzy guitar straps and other stuff for the runners-up, of course. Beating out the likes of all purpose and Bossanova to get to the finals, the surviving three bands, for the most part, all had pretty solid and distinctive stuff.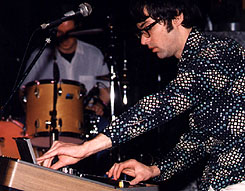 Verona came on first and the thing that caught my eye was an old-looking keyboard onstage (oh, oh!), but it didn't turn out to be a big factor in the sound. The first song was a ponderous folky number, but it was followed immediately by a more strident piece with heavier guitars. It was their brisk stuff I liked, as their slow songs seemed a bit stuffy and plodding. I wasn't totally thrilled with their stage presence (the vocalist even resorted to a moribund explanation of the Shakespearean derivation of the band's name), and I was picking these guys to come in third.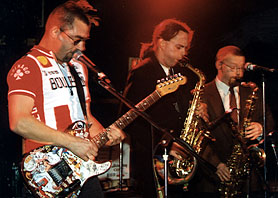 Emerging from their table in the corner of the club, two sax players blew on their instruments and strolled coolly towards the stage to announce the arrival of the second act, the Hounds of Buskerville. Okay, two sax guys and a frontman with a Mohawk... hmm, what to expect!? They turned out to be a fun, energetic ska-tinged band that drew a frenetic bunch to the dance floor. Complete with a thumping, relentless bass and sharp interplay between the guitars and saxophones, the band laid down solid toe-tappin' grooves that would be heartily accepted at a Caribbean bar. The only complaint was that they really beat each song to death! Then, midway throught the set, as if to break the monotony, the bass player suddenly became the frontguy and his voice had more bite, especially on a catchy (but again, too long) tune called "Blowin' Off Steam." I was picking this group to finish ahead of Verona.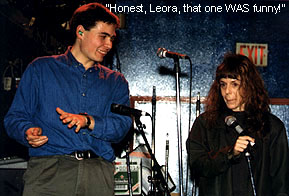 After a desultory 'jokes for beer' competition ("What's the difference between rape and consent? Scott Road." was the only one I liked), final act the Salteens came on. Featuring a cute bassist with short blonde hair (and fuzzy red bass) and a frontman with a strangely familiar haircut ("Do you think the Grapes of Wrath style will come back?" he asked rhetorically at one point), the group had a "too innocent to win a band contest" look about them. But right from the first song, it was virtually a foregone conclusion that they were going to win.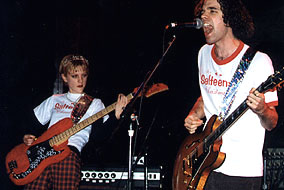 Like a Canadian version of Spiderbait with an Inbreds sound thrown in, this three-piece showcased incredibly tight and authoritative songs that gripped the room's attention. Bassist Megan Bradfield played with a pick but she used it properly to lay down interesting riffs underneath the enjoyably noisy guitarwork of Scott Walker. When two of his strings broke and he was lent a Telecaster from a kind Hounds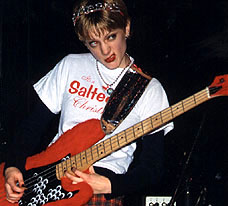 of Buskerville guitarist, his sound became really gnarly, bordering on obnoxious, but his teenager-ish vocals still came through nicely.
The final outcome? Yeah, the Salteens got top honors, followed by Verona and then Hounds of Buskerville (hmm, is someone wondering if he should have kept his guitar to himself?). So I got it at least part right, but our photographer, Rodney, a wizened surveyor of Vancouver's music scene, picked the exactor in tonight's horse race. I still owe him that slice of pizza...

[ed. click here for a review of 1996's Shindig finals.]
---
First published in Drop-D Magazine on January 25, 1998
Index | Search | E-mail | Info | Copyright

Considering copying some of the images from this story?
Please read this first. Thanks.