Sunday Shining 12"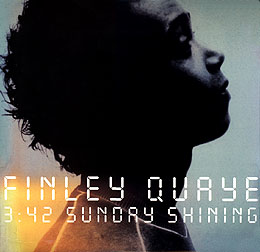 Finley Quaye
Epic

Review by Darren Gawle
---

If there ever needed to be any further proof the talent runs through bloodlines, then the Quaye family is it. Their ranks include Cab, a jazz composer, Caleb, a renown session guitarist and, now, 23-year-old Finley, who, it turns out, is none other than Tricky's uncle (remember that Tricky's debut album was named for his mother -- and Finley's half-sister -- Maxine Quaye). And far from merely cashing in on his nephew's sound, Finley Quaye's is a sound all its own.

Side A features two mixes of "Sunday Shining," which, if nothing else, shows Smash Mouth how this R&B/calypso sampling thing is done. It's hard to decide which mix is better -- "Sunday Shining" is a lot more polished and driving, but despite the odd way that the vocal track sits in its remix, "Sunday Best" has a better 60's feel to it. Side B's "Lover a Need I" and "Singing from the Same Hymn Sheet" are more laid-back, sparse affairs which feature icy keyboards and echo-drenched vocals, but have a lot to offer if it's a dub trip you're after.

Riding a wave of European music awards, Finley Quaye's debut album is now available in Canada, and if "Sunday Shining" is anything to go by, then go buy.



---
First published in Drop-D Magazine on February 1, 1998
Index | Search | E-mail | Info | Copyright

Considering copying some of the images from this story?
Please read this first. Thanks.