1997, the Year in Review
By Rodney Gitzel
---
Most Listened to CD
Queazy, Hurk

One of the funnest, punchiest local releases in quite some time.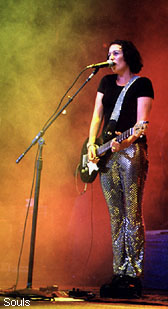 Sexiest (and Just a Little Psycho) CD
Souls, Bird Fish or Inbetween

That voice! Those pants! Yow! Besides, Souls rock. That I didn't listen to this CD until after the Bush show, and that I thus also missed the band previously at the Starfish Room, make up one of the biggest tragedies of the year...
Favourite Local CDs
Otherwise Favourite CDs
Most Disappointing CD
Shudder to Think, 50,000 B.C.

Why do bands get rid of that which makes them unique?
Best live shows
Biggest (Good) Surprise
the G3 show, September 26th

It wasn't just a wank-fest, it turned out to be a really fun show. Especially for the photographers... right Steve and James? :-)
Worst Trend
Bands who record CDs before they're ready

What ever happened to demo tapes? To learning to play as a band? To getting good? Just because you can make a CD, doesn't mean you should!!! Vancouver is rife with bands like this. You know who you are. Or, sadly, you probably DON'T...
Saddest Local Band Breakup
Queazy

They can't break up! I'm not tired of seeing them play live, yet!! Sigh.
Vancouver Bands Everyone Must See Play in 1998
The I-Don't-Get-It Award

Back to the Year in Review...
---
First published in Drop-D Magazine on February 28, 1998
Index | Search | E-mail | Info | Copyright

Considering copying some of the images from this story?
Please read this first. Thanks.