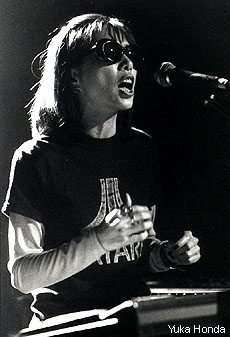 Dancin' for Crazy Food
Cibo Matto
with Babe the Blue Ox
The Starfish Room
Vancouver, B.C.
May 18, 1996

Review by Justin Rice
Photography by Paul Clarke
---

The Starfish was packed for this show featuring one of the most hyped new bands around right now, namely Cibo Matto, whose Warner debut album Viva! La Woman has been causing quite a stir with its mixture of solid old school hip-hop, trip-hop, bossa-nova disco, techno ambience, food obsessed lyrics (EVERY song is about food) and good old fashioned DIY punk ethics. Confused yet?? Wait...

Cibo Matto (Italian for "crazy food") is composed of two Japanese expats who ended up meeting in the same Boredoms-inspired punk band while living on Manhattan's Lower East Side. Yuka Honda provides the sounds and Miho Hatori the lungs (and lyrics, sung in English, Japanese, and French). Imagine moving to Osaka and starting up a rap band that sings in Japanese and you kinda get the idea. In the short time that they've been together, they've made friends in all the right places, recording their album with the likes of Mitchell Froom and Tchad Blake (who've both worked extensively with Elvis Costello and many others), various Beastie Boys and members of the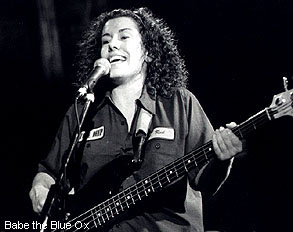 Blues Explosion. Honda has also played with the legendary jazz trailblazer John Zorn, acid jazz group Brooklyn Funk Essentials, and Brazilian pop star Caetano Veloso. Enough history, though -- I'm just trying to set the scene for their sound, which comprises elements on some level of all the styles of music listed above. These girls know their grooves.
Openers Babe the Blue Ox are a three-piece hailing from Brooklyn. They're one of those bands that I've heard and read lots about without having heard their music, so it was a pleasant surprise to see them on the bill. They opened up with "Nine Tenths," which had sort of a noisy art/prog rock sound and things regressed from there (at least for me). The singer's Lou Reed drony vocals and power chord after power chord seemed never ending. By the third song, "Tattoos," I was praying they would leave, and by "Betty Davis," I was ready to die. In their defence I did hear a lot of people talking later and it seemed like some people in the crowd liked them, leading me to conclude that either (a) I have questionable taste or (b) these people were idiots.
But Babe the Blue Ox did finally finish their set, and as equipment was being set up for Cibo Matto (to the groovy sounds of the new Stereolab album), you could see Miho warming up back in the dressing room, doing jumping jacks in her red Adidas jacket, and the crowd began to press forward. Lots of Japanese kids were there with the indie and hip-hop scenesters coming to see the next big thing.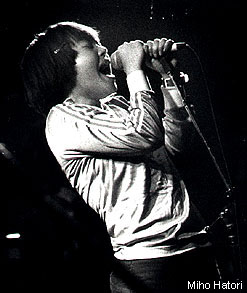 After about half an hour the tiny two-some took to the stage (Yuka in a kick-ass Atari t-shirt) and heads started bobbing -- and they didn't let up until the end of the night. Admittedly, I've only heard the album a few times and recognized maybe three songs, so I don't really know much about the music, but Cibo put on a great show. Miho really gets into her singing, and her energy was absorbed by the crowd as Yuka worked her sampler like the instrument it truly is. From the angry rap of "Birthday Cake" to the fucked-up jazz (sung in French) of "Le Pain Perdu" to the ballads "White Pepper Ice Cream" and "Artichoke," Cibo played the room like professionals.
For the second half of the show, the sound was fleshed out a little with the inclusion of a drummer and a bass player, which made for a much louder, rawer sound that worked just as well as the more groove-dependent sampled stuff. The encore rendition of Soundgarden's "Black Hole Sun" stole the show by far; it was so completely different than the original that I didn't recognize it until the chorus... and then I smiled all the way home. A solid, though at times quirky, show.
Still, there's something about Cibo Matto that reeks of hype. They did remind me in some ways of that other infamous Japanese girl group, Shonen Knife, with their cute, broken English lyrics and between-song banter. I left wondering: if they were white, and from Indiana, playing the same music, would they be on the cover of the new Option...
---
First published in Drop-D Magazine on May 30, 1996
Index | Search | E-mail | Info | Copyright

Considering copying some of the images from this story?
Please read this first. Thanks.