Live, From Vancouver, It's...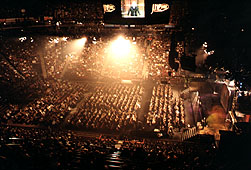 The 1998 Juno Awards
GM Place
Vancouver, B.C.
Sunday, March 22, 1998

Review by Alphonse Leong
Photography by Rodney Gitzel
---

'Tis the season for awards shows! Watching the Academy Awards on TV the day after watching the Juno Awards live, I developed a greater respect for the work required to broadcast a decent live-to-air program. Of course, that doesn't change the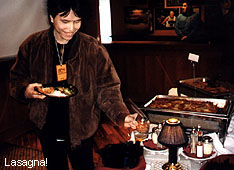 fact that awards shows are basically boring (unless you're gettin' an award), and this year's Junos were no exception. Despite the fact that we media types were treated to beer, wine and lasagna, and despite a few funny moments from host Jason Priestley, it was an as mind-numbing self-congratulating ritual as usual.
The untelevised portion had a more riotous feel, with most of the seats still empty and the presenters not worried about looking good on TV. Holly McNarland looked perfectly peachy as she nervously accepted her Best New Solo Artist award, and the Rascalz didn't even get onstage to pick up their Best Rap Recording award. With a distinct pseudo-L.A. petulance, they explained later in the press room that they were "grateful for the acknowledgement," but felt it was "disrepectin' urban music" not to present the award on air. A pretty diplomatic response, I guess...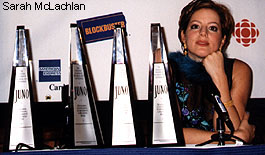 The "real" show kicked off with a taped comedic sketch featuring Jann Arden (in a Calgary Flames jersey) and Jason Priestley (in a Canucks jersey, of course) smoking in bed and gabbing about Junos hosting (Priestly: "What is that, Shanina?" Arden: "No, no...Shania."). A fairly inspired routine, it was a good warm-up to the opening musical number, Sarah McLachlan seated at the piano performing "Adia." She looked resplendent in a shiny green top and long silver skirt and, of course, she won in all the categories she was nominated for, including Songwriter of the Year, which she accepted with wide eyes and a gentle, "This is the one that really means a lot."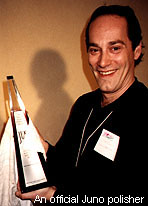 Two other artists, Shania Twain and Diana Krall also performed whilst seated. I know Ms. Krall had to sit to tickle the ivories, but I was looking forward to seeing Shania shake her bootie and do her famous hands-in-pockets hip wiggle! Oh well, she looked great, anyway, and she did get her Country Female Vocalist of the Year award. Looking equally as ravishing in a strapless black gown, Diana Krall sounded confident and sexy when she sang the "Peel me a grape" line but, sadly, she was beat out by Hugh Fraser Quintet for Best Mainstream Jazz Album.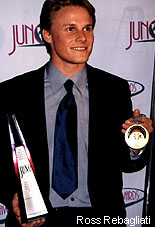 Our Lady Peace didn't even get to perform, due to a sudden flare-up of lead singer Raine Maida's recurring back problem. The group did snag the prestigious Group of the Year and Blockbuster Album of the Year awards, though. Ron Sexsmith was picked as Our Lady Peace's replacement act, and he sounded a trifle boring; when he picked up his Best Roots & Traditional Album-Solo, he also appeared lifeless. These moody singer/songwriter types just don't show up on stage as well as acts like Econoline Crush, who played early in the show, or Best New Group winner, Leahy. Also Instrumental Artists of the Year, Leahy kicked up their heels in a cool Irish dance sequence that got the crowd out of their seats.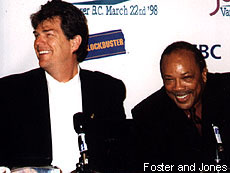 A smug David Foster accepted his Hall of Fame award from presenter Quincy Jones (who appeared very cool and humble while receiving the obligatory standing ovation). As Foster began his acceptance speech, I made a point of going to the buffet table to steel myself with a plateful of lasagna. By the time I finished off the last morsel, he was still going on with his self-serving spiel!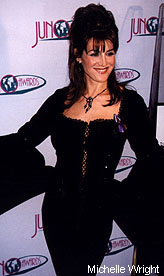 Later, in the press room, Sarah McLachlan appeared very composed, especially when she issued her "Watch and learn!" message to the promoters who had pooh-poohed her Lilith Fair idea. Shania Twain appeared a little tired, though she gladly acknowledged the irony of her current vegetarianism held alongside her earlier belief that success meant "eating roast beef everyday."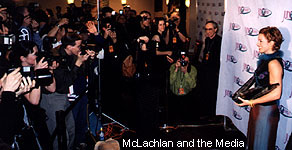 All in all, everyone who made a ton of money in Canadian music last year got a Juno Award as an added bonus, which kind of left me speechlessly watching the proceedings like a penniless drifter crashing Bill Gates' Christmas party. Yeah, music awards shows are a weird trip: shiny beautiful people prancing around in a glitzy surreal setting, and more media than you'd ever want to shake a camera at. At show's end, I had to go down and see Blue Veil's acoustic set at the Cafe Deux Soleil just to get myself into a more reasonable environment.
---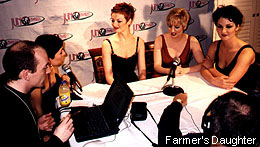 For the record, B.C. artists receiving awards were:

CBC Vancouver Orchestra
- Best Classical Album: Large Ensemble

Delerium
- Best Dance Recording

Farmer's Daughter
- Country Group or Duo of the Year

Sam Feldman
- Walter Grealis Special Achievement Award

David Foster
- Hall of Fame

Hugh Fraser Quartet
- Best Mainstream Jazz Album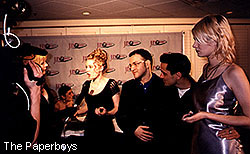 Colin James
- Best Blues Album

Sarah McLachlan
- Single of the Year, Album of the Year, Female Vocalist of the Year, Songwriter of the Year (with Pierre Marchand)

Holly McNarland
- Best New Solo Artist

Metalwood
- Best Contemporary Jazz Album

The Paperboys
- Best Roots & Traditional Album - Group

The Rascalz
- Best Rap Recording

---
First published in Drop-D Magazine on April 3, 1998
Index | Search | E-mail | Info | Copyright

Considering copying some of the images from this story?
Please read this first. Thanks.