If They Had 9 Lives...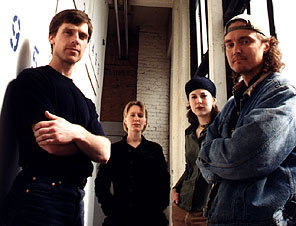 Karen Rauh and Sara Mitchell of Vancouver's Dorothy Missing
Interview by Alphonse Leong
Photography by Suzanne Goodwin
---

From jamming on Beatles and Red Hot Chili Peppers covers five years ago to releasing a self-titled debut CD earlier this year, Dorothy Missing founding partners Karen Rauh and Sara Mitchell have developed a singularly well-crafted sound in a relatively short period of time. Featuring swirling, ethereal guitarwork, gutsy vocals, and clever, sometimes cryptic lyrics, the disc runs the gamut from hard-edged pulsing numbers ("Press") to cute pop tunes ("9 Lives") to slow, moody pieces ("Sleep"). As we talk over herbal tea in Rauh's kitchen, they strike me as the female equivalents of Keith Richards and Mick Jagger: Rauh, the guitarist, is obviously the animated and free-speaking one, and Mitchell, the singer, converses in a more thoughtful and measured tone.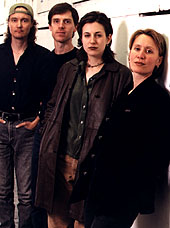 Rauh describes the two's working dynamic: "Writing is the easiest thing we do together, it's awesome. I write music and I'll either like get together with her and play it for her while she starts singing stuff to it, or I'll put it on tape..." "That's the process that works best," adds Mitchell, "It takes away from the intimacy of writing together, but I like taking it away on tape and going over it at home to come up with melodies and lyrics -- 'cause I then I don't have to ask her to play it over and over again!"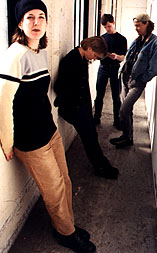 Though the pair enjoy a smooth creative process, Mitchell does concede stylistic differences. "Karen and I have very different tastes in music, we have a more common thread now, but, in general, for the first few years, we were vastly different..." Counters Rauh, "Except for what we listened to when we were teenagers, you know, Led Zeppelin and Pink Floyd, the classic rock thing... and maybe throw in a dash of Scorpions for me!" Mitchell continues, "...Yeah, she was like a metal queen and I was more into David Bowie and the Clash."
Rauh is conscious of being a female rock guitarist. "For me, because I was trying to play lead guitar back in high school when there was nobody doing it, except for, you know, like the Gogos, Lita Ford or Joan Jett, I was really, really aware of it. So right now, I'm totally thrilled that are so many more females getting involved in music."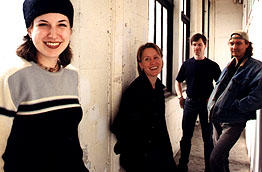 A short but standout song from the CD called "Middle Child" makes its point in a particularly incisive and compelling fashion. "'Middle Child' is about how difficult it is when you have chosen the pursuit of being an artist," Mitchell explains, "And you see all your friends around you starting to make money and have children and doing the full-on domestic thing and you're still struggling away. It's about really sticking with what you believe in and not giving up in the hopes that you'll eventually win, you know, get what you feel you deserve. Because the main thing to any successful artist is always perseverance."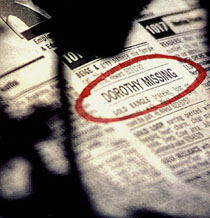 Commenting on the song's length -- at a mere 1:50, it's shorter than most Buddy Holly songs! -- Rauh declares, "We didn't know until we recorded it in the studio that it was like one minute and fifty seconds. We were like, 'Is that it!? Is that how long it is!?' It was really funny, we had no idea!" Who knows, maybe they'll start a trend!
The two took a extended sojourn to Egypt last October, with Mitchell returning before Christmas and Rauh staying until January. "Karen, you were inspired after I left?" asks Mitchell wryly. "It's actually kind of weird," Rauh muses, "because what I thought before I left was that I was going to get into all these Egyptian scales and stuff and what I was really into when we were travelling was all these jazz chords! I had some pretty cool experiences jamming with people and I had to just totally push aside any set ways I have of doing things and totally open myself up to what they were doing. They have their own little scene, I guess, like Egyptian pop music that's not really known outside the country, and so you're cruising along on a bus and you get it blasting in your ears for like a whole ten-hour ride! Eeeh!"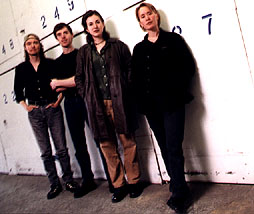 The band has gained fervent supporters -- including supporters willing to lend money. Mitchell marvels, "We have friends and family members who donated to our CD and it's such an incredibly selfless gesture, I mean, these are people who don't have a lot of money, who are seeing that we are pursuing a dream. Now it's just push the CD, get the video edited and out there, do a tour... but the main, main thing is being heard and getting on the radio, which is a very difficult thing to do." C-FOX, are you listening?

For more Dorothy Missing, see their webpage...
---
First published in Drop-D Magazine on April 25, 1998
Index | Search | E-mail | Info | Copyright

Considering copying some of the images from this story?
Please read this first. Thanks.