Kicked in the Teeth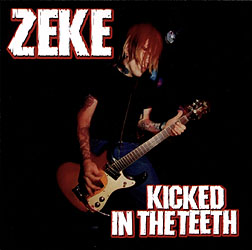 Zeke
Epitaph

Review by Darren Kerr
---
"HEY!! YOU LITTLE BASTARDS GET OFF MY FUGGIN TRACTOR OR I'LL CUT YOU FROM ASSHOLE TO APPETITE!! MARK, I KNOW YOUR PA. HE'LL TEAR YOU A NEW ONE YOU LITTLE PISSANT."

"SEND HIM A JOHN DEERE LETTER YA SENILE OLD FUCK!"

This tender tableau probably sums up the childhood of Blind Marky Felchtone, delinquent leader of Seattle full throttle punkers Zeke, while growing up in Fayetteville, Arkansas. Zeke are cut from the same greasy, ugly shroud as Mötorhead but with more speed. Call them MötorOil, if you will. These boys make train wreck punk rock with a serrated metal edge.
Just dig these titles -- "Fuck All Night," "Zeke You," "Porked," etc. -- you just know Zeke ain't gonna be invited to no moral majority cookouts. Don't go looking for them to be playing here anytime ever 'cause they can't get across the big bad border [ed. Actually they are due to play here soon! See below... ]. You can however go lay your tentacles on their other two full lengths: 95's Super Sound Racing and 96's Flat Tracker (there might be another, but, damn it, Jim, I'm a music whore, not a librarian).
There's no point trying to expound volumes on the subject of Zeke, so let's just say they rip shit up and leave it at that. Oh yeah, drummer Donny Paycheck says "fuck you!!"

Zeke will be opening for the equally-notorious Nashville Pussy at the Starfish Room in Vancouver on August 28th and 29th. YaHOOO!! Two nights of Pussy and Zeke!!!
---
First published in Drop-D Magazine on July 29, 1998
Index | Search | E-mail | Info | Copyright

Considering copying some of the images from this story?
Please read this first. Thanks.