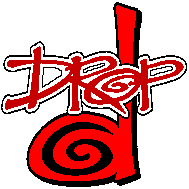 Vol. 1 No. 13
June 29, 1996
Drop-D Magazine
Vancouver's Music Magazine.
ON the 'Net and OFF.

The Commodore Ballroom.
1929-1996.
R.I.P.

Features
School's Out - Let's Tour!
Serious comments from North Van's under-aged punk veterans.
Interview: d.b.s.
Pennywise but Not Poundstupid
Burritos, surfing and the Warped Tour.
Interview: Jim Lindberg of Pennywise
Rockin' in a 'Burban Paradise
Who says Vancouver is the only city with good live music?
Live Review: The Lizards / Media Sex God / BTK / Forget your Face, Club Paradise, June 14, 1996
Mo' Funk for the Masses
Vancouver's new and hot acid jazz label, Mo' Funk Records.
Interview: Mo' Funk Records' Luke McKeehan

CD Reviews
54-40
Trusted by Millions
Maow
The Unforgiving Sounds of...
Evil Roy Slade
Heat