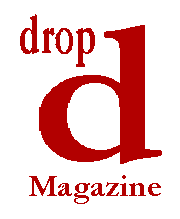 Welcome to the second issue of Drop-D Magazine. Gradually lookin' just a little snazzier. See you next Thursday...
Vol. 1 No. 2
April 11, 1996
Out of Jale and Back on the Streets
East Coast Sub Pop'ers are making their way out to our neck of the woods.
Need Your Hand Stamped, Ma'am?
The long-awaited Hagfish interview.
This Ruby's a Gem
Leslie Rankine brings her Hot Band du Jour down to the Starfish.
Getting Down with the Locals
DDT show makes Daniel Ewacha regret what he's missed.
Everclear Grows Finer Over Time
Rodney Gitzel takes a surprise liking to the Portland trio.
Write a Song About My Life
Mr. Friday and Mr. Pussy take in tea at the Starfish.
Got No Use for a Title, Punk!
More punk bands than you'd ever dare to shake a stick at.
CD Reviews
Two female singers; two very different bands.