His Soul Intention
Ben Harper
with Geggy Tah
The Vogue Theatre
Vancouver, B.C.
Saturday, August 24, 1996

Review by Kevin Templeton
Photography by Suzanne Goodwin
---

If there is a single performer in the last ten years or so who exudes and inspires greatness in oneself, 25-year-old Californian Ben Harper would get my vote. An artist who music writers often hail and who the common man/woman has yet to really discover, Harper transcends conventional singer-songwriter boundaries with his multi-expressive guitar stylings and higher passages (speaking) of social justice and liberation. Certainly you've heard or read the hype surrounding this artist... well, you're going to hear it again: today, in 1996, Ben Harper is the man.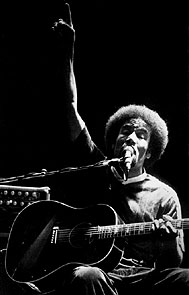 The last time Harper played Vancouver was back in January of this year in a room full of people at Richard's on Richards -- a show that left everyone and their sister raving. With a return engagement a certainty, the man and his band ("the Innocent Criminals") made their way back to our city to re-hypnotize a packed Vogue Theatre full of stoked blues and folk freedom seekers.
Opening with the stark "Excuse Me Mr.," Adidas-adorned Harper broke the air of muggy desperation filling the hall, then kicked into the funky "Ground on Down" (complete with a nod-to-Jimi intro), which seemed to bring the anxious crowd to a new high. Sitting and strumming his guitar comfortably, Harper brought easily to mind names like John Lee Hooker, Bob Marley -- and even modern soul rapper Michael Franti of Spearhead.
I immediately found myself chuckling at Harper's coolness and concentration, and at the distinct anticipation of being pulled through a spiritual zone of music and vibe. A newer rock'n roll number, slated for the next album and introduced as "The Will to Live," ran alongside Harper's fluid Weissenborn-on-lap version of Jimi Hendrix' "Voodoo Child." The quaint stage setting and lighting gave the audience plenty of opportunity to check out the "criminals" on rhythmic control. Birthday boy ("24," joked Harper) and cool fella Juan Nelson received most of the attention on bass guitar duties, while Leon Lewis Mobley and Oliver Charles laid down the more percussive laws.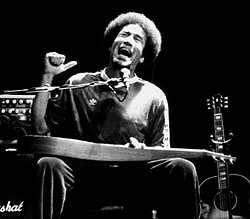 Talkin' blues, I was truly amazed at how much this cat Harper looks like Bob Marley, especially during his confessional, gospel-tinged songs such as the lilting "Waiting on an Angel" and the haunting "Forever." "Burn One Down," the reggae-ish ganja anthem of the 90's, continued on in fine Marley fashion as well, inspiring the crowd to participate on both the vocal and smoking fronts throughout.
Only twice by my count did Harper rise from his throne to give his eloquent yet limited dance routine, much to the crowd's approval each time. But it was definitely Harper sitting on his chair, jamming like a twentysomething John Lee Hooker, that the people came to see, with generations of music virtually pouring from his voice and guitar in abundance.
Oddly enough, Harper has dates set to play with Pearl Jam on the band's upcoming tour, and I can only wonder how Pearl Jam's arena fan base will react to the live Ben Harper experience. Come to think of it, who cares?
Spirited young fellows Geggy Tah opened the evening with some acrobatics (seriously) of their own, which gave us balcony viewers a chance to discover the strange sounds of the trippy California trio. Taking the eclecticism thing to ambitious new heights, Geggy Tah mixed Dave Matthews Band neo-hippy structures with Frank Zappa weirdness to create what I would call "music to grow a goatee by." Very charming, and very good, but I'll take Ben Harper's approach any day.
---
First published in Drop-D Magazine on August 30, 1996
Index | Search | E-mail | Info | Copyright

Considering copying some of the images from this story?
Please read this first. Thanks.