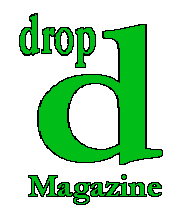 Vol. 1 No. 5
May 2, 1996
Drop-D Magazine
Vancouver's Music Magazine.
ON the 'Net and OFF.
The first edition of Drop-D on paper is now available from lotsa cool places in Vancouver! Check it out...

Features
Much Ado About Music West
P. Freako takes us on a harried tour of Vancouver's monster music fest.
Waste Not, Miss Out
This weekend's alternative alternative music festival.
Hands Off our Fish, America!
d.b.s. headlines an (accidentally) all-local punk night at the Eye.
Can't Get Much More Rock and Roll Than That!
Share a pint of gold flakes with Vancouver's Noise Therapy.
Therapeutic and Mind-Numbing
Noise Therapy, Nickelback and Jar rawk the spandex and hairspray set.
Ridin' Shotgun with the 'Diggers
Holly McNarland and the Skydiggers heat the Starfish to a nice boil.

In the Band Page Spotlight...