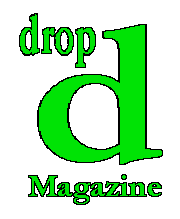 Vol. 1 No. 8
May 24, 1996
Drop-D Magazine
Vancouver's Music Magazine.
ON the 'Net and OFF.
Don't go to CD release parties on press night... %-}

Features
Punk the Vote!!
DOA's Joe Keithley is running for office in Tuesday's provincial election!
At Odds with Idiots
Why do the Odds attract such baboons to their shows?
Aural Oasis in the Land of Liebert
World-beat guitarist brings a whole, complete, sensual experience to the Vogue.
All the Jazz That's Fit to Print
A guide to guides to jazz recordings.
Some Things Never Change
The Moody Blues debut their new tour -- and a new outdoor venue for Vancouver.


CD Reviews
The Pasties
self-titled
Jad Fair & Phono-Comb
Monsters, Lullabies... and the Occasional Flying Saucer