Presidents Sweep Vancouver Primaries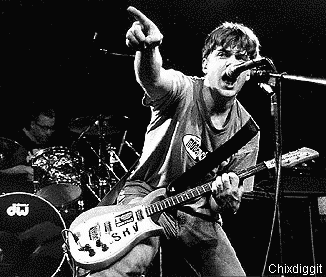 The Presidents of the United States of America
with The Fastbacks and Chixdiggit
The Commodore Ballroom
Vancouver, B.C.
March 20, 1996

Review by Suzanne Goodwin
Photography by Paul Clarke
---

The evening began with Chixdiggit bouncing onto the stage with the type of enthusiasm you can find only in fresh faced young college boys -- well, what can I say, that is what they look like. With a "Hi, how are you," they admonished the crowd to start singing and had everybody yelling out "Hip Hop Hooray" and grooving along in no time. And that was just the first song! Lead singer K.J. had the schtick happening with his three-foot-high mike stand; somehow he manages to re-orient his stance to play and sing like some kind of hyper midget. Small in stature, perhaps, but not in stage presence! These dudes fired up the intensity for their entire set. The crowd was surfing from the word go. Chixdiggit sang tunes a shade heavier than your average perky-pop-punk, the focus of which seemed to be effervescent post adolescent musings like "I Want to Hug You" and "Where's Your Mom?" (apparently about the great legs on a band member's mom...hmmm).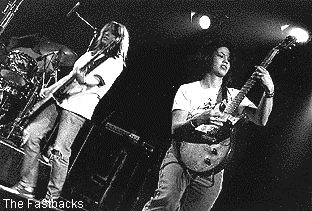 They were right in there with the crowd, shaking hands and insisting everybody sing along to everything -- especially to their superfast razor renditions of "Hair" and Billy Joel(tm)'s "You May Be Right." I'll tell ya, this feel-good Calgary crew set us up with a jovial atmosphere and left us hungering for more. It really was a shame.

A shame? Yes, a shame that Seattle's Fastbacks were the next band, or actually that they were on the bill at all. The Fastbacks wandered out and started to play, with no hellos or intros beyond saying they had never played in Vancouver before. Seems to me that they would've taken this opportunity to impress a new crowd, y'know, maybe win themselves some more fans or something. The Fastbacks pretty much deflated the balloon of energy that Chixdiggit had given us. I honestly couldn't tell one of Fastbacks' hoarsly edged pop songs from the other, making for a pretty mundane 45 minutes of "Aren't they finished yet?"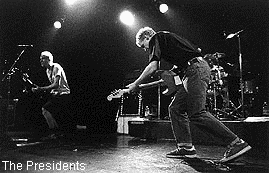 But, aaah, finally: The Presidents of the United States of America. Another Seattle trio. The Top 40 flavour of 1995, and they're here, for a sold-out gig at the Fabulous Commodore Ballroom. So did they wow us? Ya! With the Fastbacks quickly forgotten, the crowd made merry the moment the house lights went down. The Presidents trooped onto the stage doing a sort of conga dance and opened up with the high-intensity "Kick Out the Jam," from their 1995 self-titled release. Amusing, fun and interactive is The Presidents' style. Main singer, two-string bass player, shaved-head guy Chris Ballews insisted on total audience participation throughout the gig. We had to sing, we had to dance, we even had to have those house lights down 'cause we had to all light up those Bics -- "Big Fat Rock Show" style -- to create an appropriate atmosphere. Let no one in the audience not participate, because according to the Presidents, there's no point if it ain't fun. Crowd participation wasn't even a minor worry anyway, though, what with the sing-a-longs, the moshers clambering to shake the Presidents' hands and assorted offerings -- jackets, toilet paper, God only knows what else -- getting tossed up onstage. Merriment was to be the order of the evening, and the crowd was hooked.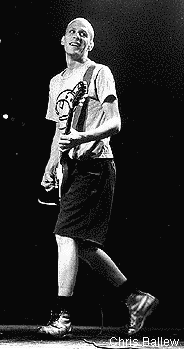 The Presidents really liked to do covers, often mid-song. Halfway through the "bug" trilogy ("Bol Weevil," "Dune Buggy," and a new one "Bug City"), they broke into a That-Dude-Who-Used-To-Be-Prince funk-a-thon-medley -- and at this point the whole show stopped, until the lighting guy turned the Commodore's mirrorball on. Can't do Prince without the mirrorball, don'cha know! Man, we got treated to all kinds of kooky stuff; including -- and maybe I shouldn't admit to knowing this song -- "Video Killed the Radio Star," dusted off from the early 80's and refurbished à la The Presidents. (Who could forget that? Surely I wasn't the only one there who still remembered it.) They slid seamlessly from their own jangly, almost country-pop material, including every song from their last release, into bits and pieces from all kinds of "big" radio schlock (The Beatles' &quot ...baby you're a rich man...", a little Willie Nelson) and back again, never skipping even a beat.
How can you take seriously a band that has a two-string bass, a three-string guitar and hams it up for all the world to see? Yeah, well, you just don't have to. Will they be around next year? Maybe. Does it matter? Nope! If the Presidents came to Vancouver only just to show us how to have a good time, then they deserved all the votes they received that night.
---
First published in Drop-D Magazine on April 4, 1996
Index | Search | E-mail | Info | Copyright

Considering copying some of the images from this story?
Please read this first. Thanks.